Angela Cholakian, Piano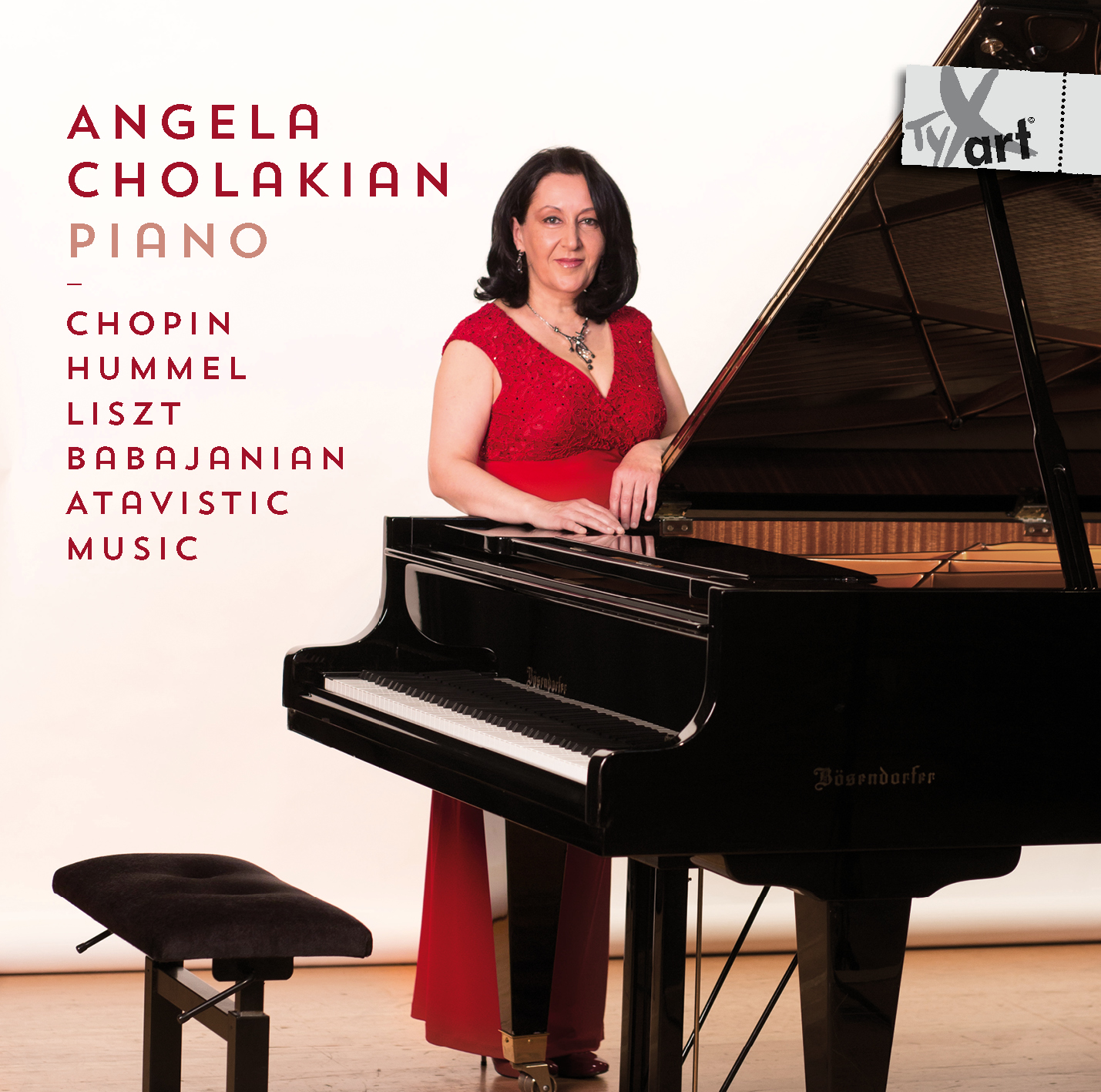 Works by Chopin, Hummel, Liszt, Babajanian, and Atavistic Music - Improvisation

On this CD, Angela Cholakian, who has become a synonym for passionate performances of new discoveries and original, radical interpretations of Romantic works, shows her creative talent in both these genres in a fascinating combination.
Chopin ("Andante spianato et Grande Polonaise") and Liszt ("Après une Lecture de Dante") are contrasted with Babajanian's obsessive "Polyphonic Sonata" and Hummel's meditative, virtuoso Piano Sonata "Hypnosis". Cholakian's emotionality radiates through every bar.

"My piano composition Hypnosis, originally my Second Piano Sonata that was later christened 'Yangtze Sonata', is actually a fugue without defined themes. Its polyphony is reminiscent of a genetic code laid in a solvent, where it sets off a process of disintegration and adherence that advances slowly but steadily. No composer has a clue how he comes across such an idea or what effect it will have on his listeners. This improvisatory composing method, which takes place in a semi-conscious trance-like state, stakes no claim to musical validity but is very closely akin to my aesthetics and my musical taste." (Franz Hummel)

Arno Harutyuni Babajanian was a prominent Armenian composer and virtuoso pianist widely known for his works in both popular and classical genres. Some of his most remarkable classical compositions are Piano Trio in F-sharp minor, Violin Sonata, Violin Concerto, Cello Concerto, Heroic Ballade for Piano and Orchestra and Polyphonic Sonata for Piano that is presented on this CD.

Atavistic Music is an improvisatory style that was first presented on a TYXart CD (Cat. No. TXA14042) with the pianist Yojo Christen and the cellist Alexander Suleiman. No stipulations regarding character or intention are planned in advance. Motives and themes, harmony and rhythm, are a result of concentrated listening and the musician's ability to react to the emerging "atavistic" elements at lightning speed. The style is thus a psychogram of each individual; his taste, and his talent to express himself spontaneously. In this no-man's-land of free music-making, where there are no rules and regulations, enormous creative skills are demanded, so the musician can distill music from the tones which "accidentally" occur to him. When this succeeds, a Utopia of liberated art is unleashed: a realm for which many modern-day composers eagerly search.
Free Audio Samples ... of this CD album!
CD Review and Recommendation
klassik.com, Germany (March 2017)
Radio Broadcast & Tip!
Polish Radio 2, Poland (Feb 2017)
CD Review and Recommendation
klassik-heute.com, Germany (May 05, 2017)
CD Presentation and Recommendation
Culture Journal Bavaria/Germany (Jan 2016)
CD programme (Tracklist):
Frédéric Chopin (1810 – 1849)
Andante spianato et Grande Polonaise brillante Op. 22 14:56

Franz Hummel (* 1939)
Hypnosis - Zweite Klaviersonate / Piano Sonata No. 2 20:16

Franz Liszt (1811 – 1886)
Après une Lecture de Dante - Fantasia quasi Sonata 18:14

Arno Babajanian (1921 – 1983)
Polyphone Sonate / Polyphonic Sonata
I. Präludium / Prelude: Vivo 01:03
II. Fuge / Fugue: Andante sostenuto 08:23
III. Toccata: Allegro vivace 05:24

Atavistic Music - Improvisation 02:26



Tags: Angela Cholakian Piano
Chopin Hummel Liszt Babajanian Atavistic Music
TYXart Labelcode LC28001
GTIN EAN 4250702800644 Order No. TXA15064
» Detailed CD booklet includes further info (bios, photos, etc.)
» Total playing time: 71min 20sec | Booklet Text: DE, EN, FR, JP
» Format: 1 Audio-CD | "Classics" | Release: int'l from ~02/2017
» Order No.: TXA15064 | GTIN (EAN): 4250702800644 | (p)+(c)2016
» CD available commercially or directly via TYXart
A further CD by Angela Cholakian:
Hummel: Diabelli Variations
Further information and concert dates:
www.angelacholakyan.com