Angela Cholakian, Piano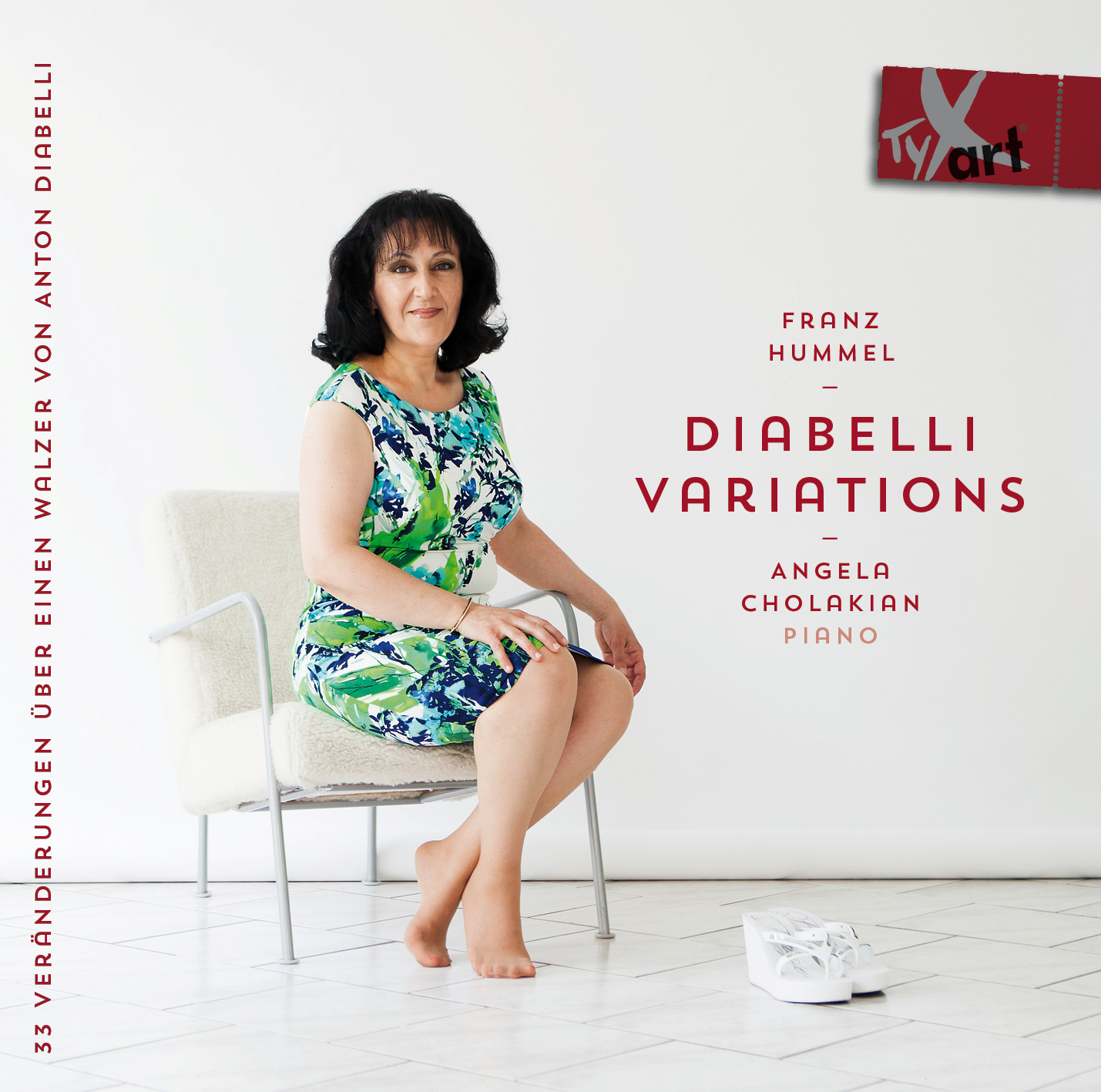 Series "Modern Classics"

Franz Hummel (*1939) is the first composer since Beethoven to use Anton Diabelli's famous theme as the basis for such an extensive piano work. These variations are like a humorous, tongue-in-cheek chronicle of music, and some stylistic quotations challenge the listener, as in a musical quiz, to guess who could possibly have written which variation.
Angela Cholakian is regarded as one of the most passionate and original pianists of romantic and contemporary compositions. With her phenomenal technique, she effortlessly puts into practice all that her obsessive imagination demands of her.
»[...] Didn't Beethoven say all there was to say on the matter and therefore have the final word on the subject? Apparently not ... [...] Now what Franz Hummel has done, in a diabolically clever way, is to enlist his own group of famous composers to write, in a subliminal way of course, new variations by combining their style of writing to his own. [...]
Most of these variations are technically challenging and musically complex, but in what I believe to be her first recording, Russian pianist Angela Cholakian immediately commands attention by her unflinching technique and uncompromising mastery of the music at hand. Her expressive playing always suits the style, and even adds to the character, of each and every different variation.
The booklet notes indicate that she seems to be a worthy successor to the art of such pianists as Gilels and Richter. I believe a correction is in order. The word "is" should replace "seems to be" in my opinion.«
classicalmusicsentinel.com, Canada, Jean-Yves Duperron (29 October 2014)
»[...] The performance by American pianist Angela Cholakian is gorgeous.«
pizzicato.lu, Luxembourg, Remy Franck (02 December 2014)
CD Tip! Frankenpost Newspaper, Germany (29 January 2015)
CD Review & Recommendation!
drehpunktkultur.at, Austria (online 18 January 2017)
CD Recommendation! Records International, USA (December 2014)
CD Review: »[...] Her playing brings to mind the great Russian pianists of the last century, especially Gilels...«
WolfgangsTonic - Ottawa Chamber Music Society, USA, Richard Todd (15 December 2014)
(++++) PIANO DELIGHTS! Infodad.com, USA (11 December 2014)
CD programme (Tracklist):
Franz Hummel (*1939): Diabelli Variations

01. Theme and Variation 1
02. Variation 2 Presto
03. Variation 3 Adagio cantabile
04. Variation 4
05. Variation 5 Allegro entusiastico
06. Variation 6 Con allegrezza
07. Variation 7 Presto, quasi studio
08. Variation 8
09. Variation 9 Feroce
10. Variation 10
11. Variation 11 Adagio cantabile
12. Variation 12 Presto
13. Variation 13 Vivace
14. Variation 14 Molto rubato, passionato, parlando
15. Variation 15
16. Variation 16 Allegro molto
17. Variation 17 Ländler. Comodo
18. Variation 18 Presto
19. Variation 19 Feroce
20. Variation 20
21. Variation 21 Tempestoso
22. Variation 22 Allegro con brio
23. Variation 23 Intermezzo nostalgico
24. Variation 24 Allegro molto
25. Variation 25 Allegro
26. Variation 26
27. Variation 27 Aria. Larghetto
28. Variation 28 Marcia funebre
29. Variation 29 Toccata
30. Variation 30 Quasi presto
31. Variation 31
32. Variation 32 Prestissimo
33. Variation 33



Tags: Angela Cholakian Piano
Franz Hummel Beethoven Diabelli Variations
TYXart Labelcode LC28001
GTIN EAN 4250702800439 Order No. TXA 14043
» Detailed CD booklet includes further info (bios, photos, etc.)
» Total playing time: 59min 41sec | Booklet Text: DE, EN, FR, JP
» Format: 1 Audio-CD | "Modern Classics" | Release: from ~11/2014
» Order No.: TXA14043 | GTIN (EAN): 4250702800439 | (p)+(c)2014
» CD available commercially or directly via TYXart
A further CD by Angela Cholakian:
Angela Cholakian, Piano
Further information and concert dates:
www.angelacholakyan.com