Alexander Suleiman, Cello & Patricia Hoy, Piano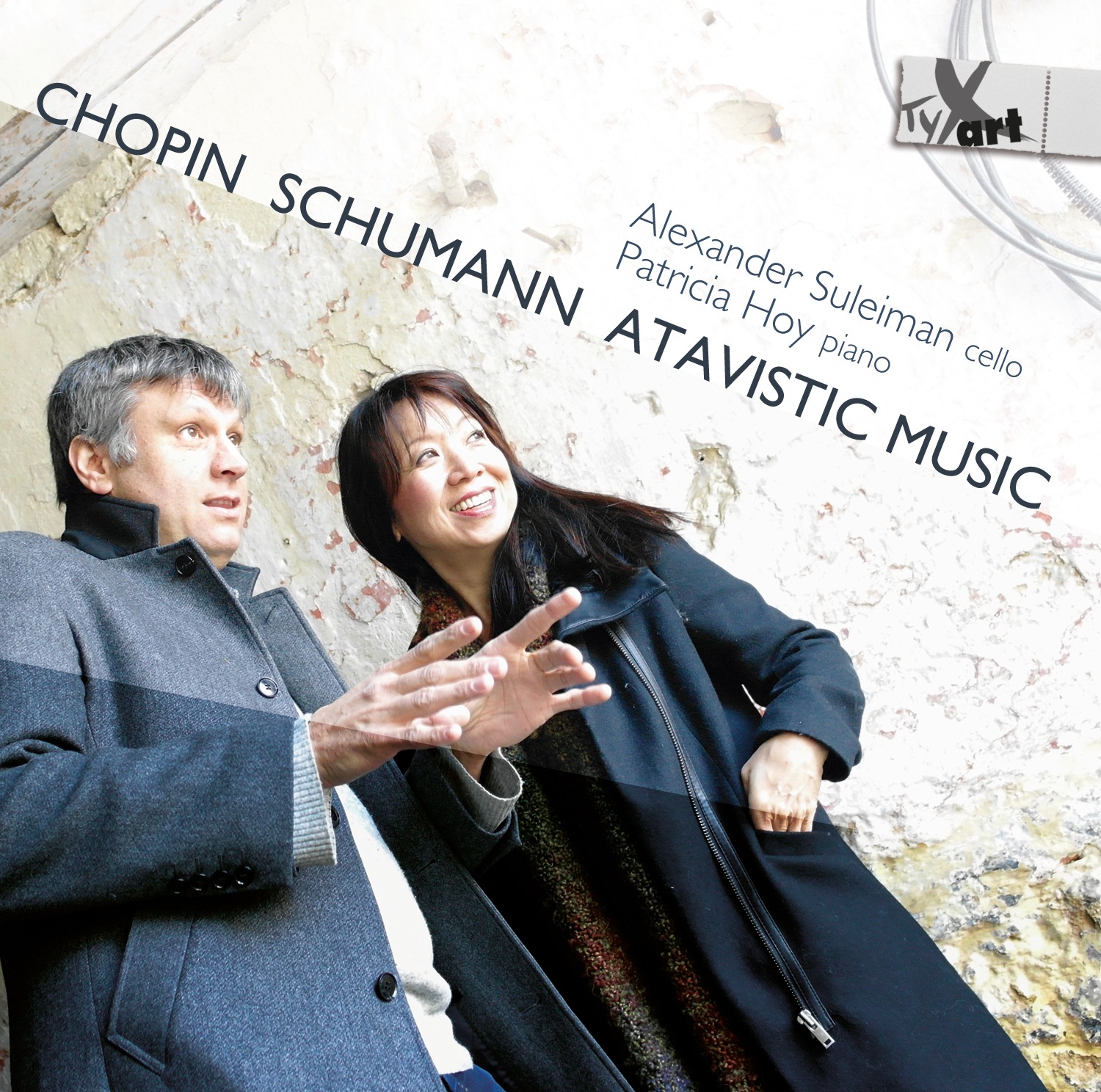 Canadian pianist Patricia Hoy and German American cellist Alexander Suleiman present a passionate and profound interpretation of popular works by Frederic Chopin and Robert Schumann.
A riveting contrast is created by the mad ride across the uncharted landscape of Atavistic Music, a freestyle improvisation conceived and performed by the musicians in one session without a plan or prior consultation. The demands on the musicians are simply to listen intently, to anticipate and to respond with lightening fast speed. That this requires tremendous artistic and technical abilities is self-evident.

"Powerful," "passionate" and "sensuous," were words chosen by the press to describe Canadian pianist Patricia Hoy's performances during a recent concert tour. Ms. Hoy is no stranger to such accolades, having been described by the Los Angeles Times as possessing a "pleasing blend of romantic reverie and disciplined direction demonstrating excellence throughout (Rachmaninov Piano Concerto No. 1)." As a soloist, her tremendous interpretation of the romantic repertoire has garnered particular praise, as at once "subtle and lyrical" yet demonstrating "prodigious technique and elan." Her appeal to audiences is perhaps best explained by one critic's comment that she "entirely conveys elements of pure musical style and superb musical understanding."

From the Concertgebouw to the National Performing Arts Centre in Beijing and Carnegie Hall, German American cellist Alexander Suleiman has won critical acclaim for his artistry as well as his ability to draw upon the full potential of the cello. Considered one of the premiere cellists of the day, Mr. Suleiman has distinguished himself as a soloist, recitalist, chamber artist and artistic director. His lineage is of the highest calibre having studied with Eldar Issakadze, Daniil Shafran and Natalia Gutman. His passion for contemporary music and his comprehensive mastery of the complete repertoire before 1900 make Suleiman an artistic personality who is able to forge new paths of expression using bold musical ideas.
»[...] lusty-passionately interpretations!«
pizzicato.lu, Remy Franck (online 27 Dez 2015)
»CD Review & Tip«
klassik-heute.com, Peter Cossé (online 12 Jan 2016)
»Interview & CD Presentation«
Radio kulturkanal-ingolstadt.de, Johannes Seifert (online 19 Feb 2016)
CD programme / Tracklist:

Robert Schumann (1810-1856)
Three Fantasy Pieces, Op. 73 /
Drei Fantasiestücke, op. 73
Zart und mit Ausdruck
Lebhaft, leicht
Rasch und mit Feuer

Frédéric Chopin (1810-1849)
Introduction et Polonaise brillante, op. 3

Frédéric Chopin
Sonata for Cello and Piano in G minor, Op. 65 /
Sonate für Violoncello und Klavier g-Moll, op. 65
I Allegro moderato
II Scherzo
III Largo
IV Finale. Allegro

Atavistic Music
Aufschwung, Melancholie, Unter dem Mikroskop, Fremdartige Begegnung, Unter Wasser, con vandalismo, Orient-Express, Kernfusion, Verdichtung, Tanzattacken