Carmen Piazzini, Piano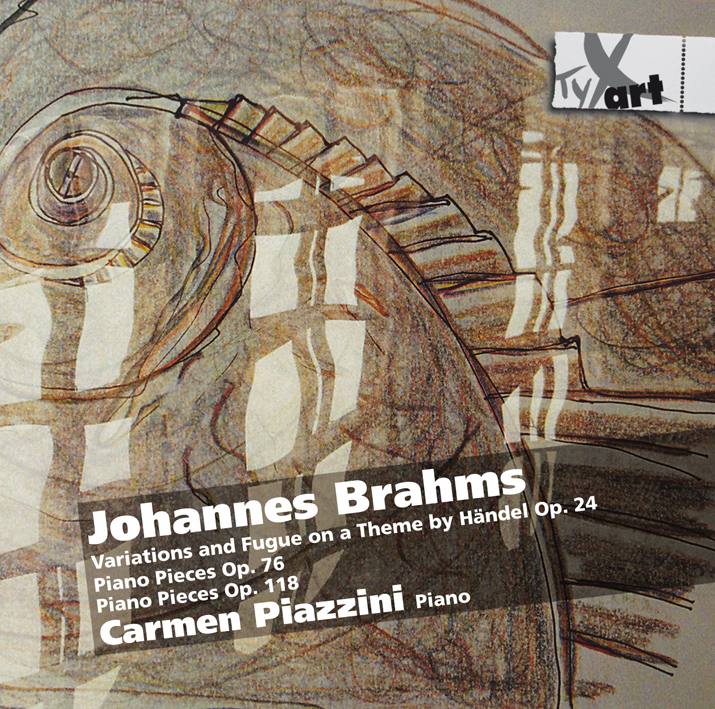 Classics

On this CD Carmen Piazzini presents Brahms' famous Händel Variations and plays the Piano Pieces Op. 76 and Op. 118 with a luminescence and a poetic sensibility of tone, that give the composer's late works new lyricism and new radiance.
Carmen Piazzini is unquestionably one of today's most important, imaginative and convincing pianists. Her reputation is founded not only on her sensational recordings of all Mozart's and Beethoven's piano concertos and all Haydn's Sonatas but also on her universal musical spirit, her proverbial sensitivity for music of the Romantic era with the mysterious lyrical character that makes Brahms' piano works so enigmatically beautiful even today, and that so few pianists are able to achieve.

»[...] a splendid interpretation from Piazzini. [...] The sound reproduction on the disc is vivid and powerful.
To Brahms and piano music mavens, this will be one disc you'll surely want to acquire. Highly recommended.«
classical.net, Robert Cummings (online, 2013)
»CD Tip!«
Thüringische Landeszeitung Newspaper (17 Nov 2012)
»Interpretation, Sound Quality, Booklet: very good!«
klassik.com (21 July 2015)
CD programme:

JOHANNES BRAHMS (1833-1897)

Variations and Fugue on a Theme by Händel Op. 24

Eight Piano Pieces Op. 76
Capriccio fis-Moll, Capriccio h-Moll, Intermezzo As-Dur, Intermezzo B-Dur, Capriccio cis-Moll, Intermezzo A-Dur, Intermezzo a-Moll, Capriccio C-Dur

Six Piano Pieces Op. 118
Intermezzo a-Moll, Intermezzo A-Dur, Ballade g-Moll,
Intermezzo f-Moll, Romanze F-Dur, Intermezzo es-Moll
CD album: Re-release, New Re-Mastering 2012!
Carmen Piazzini Piano Brahms Variations Op.24 Op.76 Op.118 CD TYXart
» Detailed CD booklet includes further info (bio, photos, etc.)
» Total playing time: 77min 14sec | Booklet Text: DE, EN, ES, FR, JP
» Format: 1 Audio-CD | Series "Classics" | Release: 07/2012
» Order No.: TXA12011 | GTIN (EAN): 4250702800118
» CD available commercially or directly via TYXart
A further CD by Carmen Piazzini:
"... for the one who listens in secret"