Sabrina Frey, Recorder & Philippe Grisvard, Harpsichord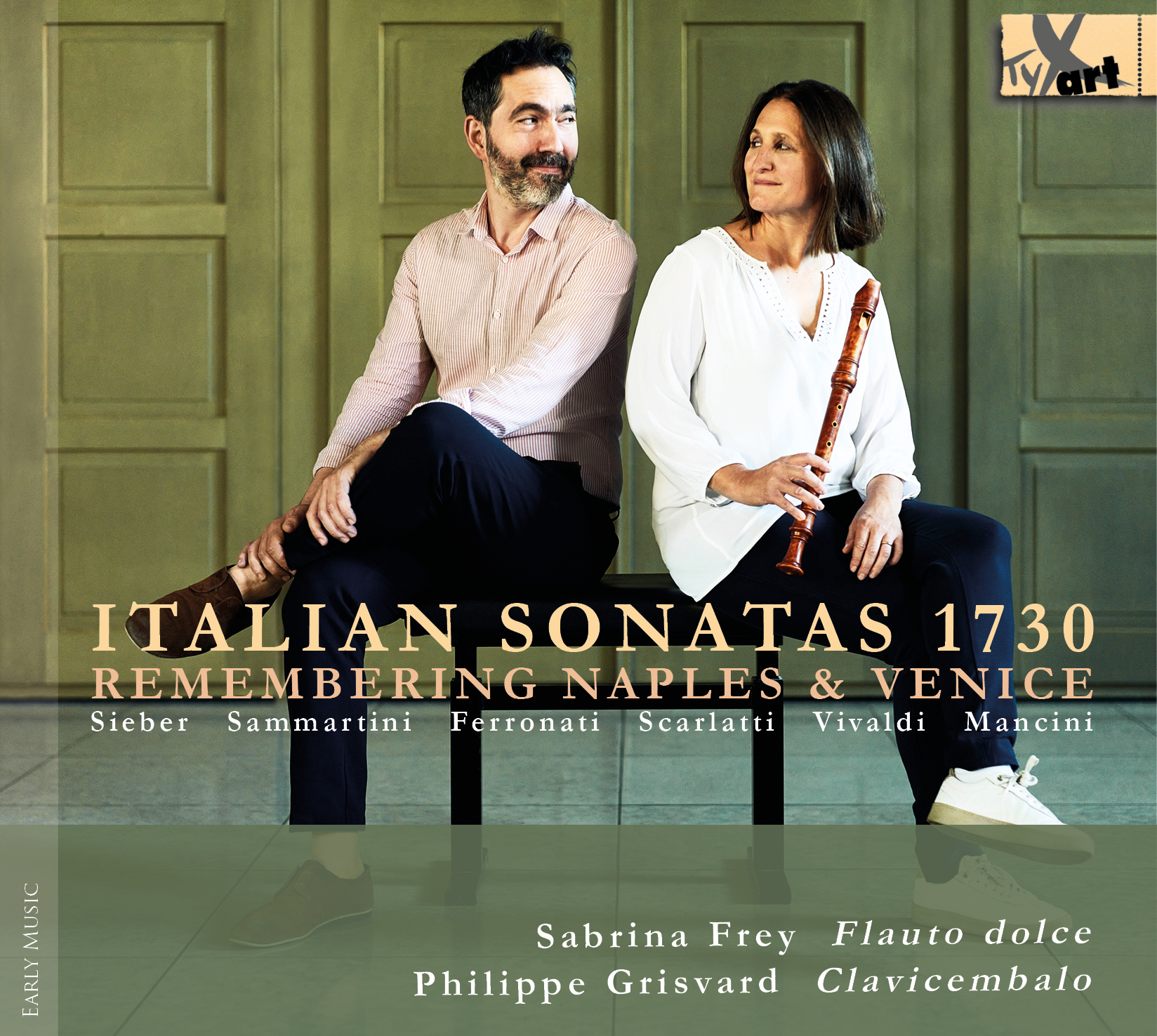 Italian Sonatas 1730 - Works for Recorder & Harpsichord by Sieber, Sammartini, Ferronati, Scarlatti, Vivaldi and Mancini [inkl. World Premiere Recordings]

All of the present works have one thing in common: the sonatas were all composed within 30 years in Italy. The reduction to the interpretation of the baroque sonatas with only two instruments – flauto dolce (recorder) and harpsichord – creates a flexibility that is enchanting.
Sabrina Frey (recorder) and Philippe Grisvard (harpsichord) lead a colorful journey through the versatile flauto dolce repertoire of Italy in the 17th and 18th centuries. The «Neapolitan school», the «Venetian school» and Arcangelo Corelli's influences are represented as well as the «galant style».
Premiere recordings are heard alongside already known works whose manuscripts are scattered in libraries around the globe.

THE DUO
For many years Sabrina Frey and Philippe Grisvard have been working closely together in the Ensemble «Accademia dell'Arcadia Turicum». An increasing concert activity as a duo led to the desire to record a program only for recorder and harpsichord on CD, exploiting all the sound, interpretative and flexible registers of these two instruments.
[extract of the booklet text]
Free audio samples of this new CD album!
Short Movie/Video of the new CD Release: "Italian Sonatas 1730 / Duo Frey - Grisvard"
INTERNATIONAL REVIEWS & PRESS ABOUT THIS NEW ALBUM (EXCERPTS):
Music Voice Italy: Disco del mese di Novembre 2022! / CD Album of the Month November 2022!
»Interpretation and Sound: 5 of 5 Points ***** (of superior quality)«
musicvoice.it, Dir. Andrea Bedetti (online Nov 04, 2022)
Klassik Heute: Review & CD Tip
»9 of 10 Points«
klassik-heute.com, Detmar Huchting (online Oct 08, 2022)
FONO FORUM: Album Review and Tip
»[...] Frey and Grisvard present highly baroque sonatas [...] The sound of Frey is always beautiful. Effortless her virtuosity, precise articulation, round, to which Grisvard's full-fledged continuo contributes [...] a perfect sound!
Music: ★★★★✭(4,5/5) / Sound: ★★★★★(5/5)«
fonoforum.com, Sabine Weber (December 2022)
CD programme / Tracklist:
Ignazio Sieber (ca. 1680 – ca. 1757)
Sonata X a Flauto con il suo Basso Continuo, G minor
I Adagio
II Allegro
III Adagio
IV Giga Allegro

Giuseppe Sammartini (1695 – 1750)
Sonata Prima, C major *
I Andante
II Allegro
III Allegro

Giacomo (Lodovico?) Ferronati (? – 1767)
Sinfonia a Flauto Solo con Basso, G minor *
I Adagio
II Allegro
III Adagio
IV Allegro

Alessandro Scarlatti (1660 – 1725)
Sinfonia De Scarlatti a Flauto e Basso, G major *
I Andante (Allemanda)
II (Passepied I)
III Allegro
IV Allegro (Minuetto)
V (Sarabanda)
VI (Passepied II)
VII (Giga)

Antonio Vivaldi (1678 – 1741)
Sonata Flauto Solo e Cembalo, RV 806, G major
I Andante
II Allegro
III Largo
IV Allegro

Giuseppe Sammartini
Sonata III Flauto Solo con il Basso, E minor
I Allegro
II Andante
III Minuet

Francesco Mancini (1672 – 1737)
Sonata VII for a fl ute with a thorough bass for the harpsicord, C major
I Spiritoso – Largo
II Allegro
III Largo
IV Allegro

* World Premiere Recordings


24 Bit / 96 kHz Audiophile Recording | High Definition Mastering for CD and Audiofiles

Digipak 6-sided, incl. Booklet (24 pages, multilingual)


Tags: Keywords Hans Gal Sabrina Frey Philippe Grisvard 4250702801665
» Detailed CD booklet includes further info (bios, photos, etc.)
» Total playing time: 59min 05sec | Booklet Text: DE, EN, FR
» Format: 1 Audio-CD, Digipak | Series "Early Music"
» Order No.: TXA21166 | GTIN (EAN): 4250702801665 | © 2022
» CD available commercially or directly via TYXart
Further CDs with this Artists:
"Accademia dell'Arcadia - Roma 1710"
Further Info - Artists & Concert Dates etc.:
sabrinafrey.com