Jan Roeck, Piano — Jakob Jaeger, Double Bass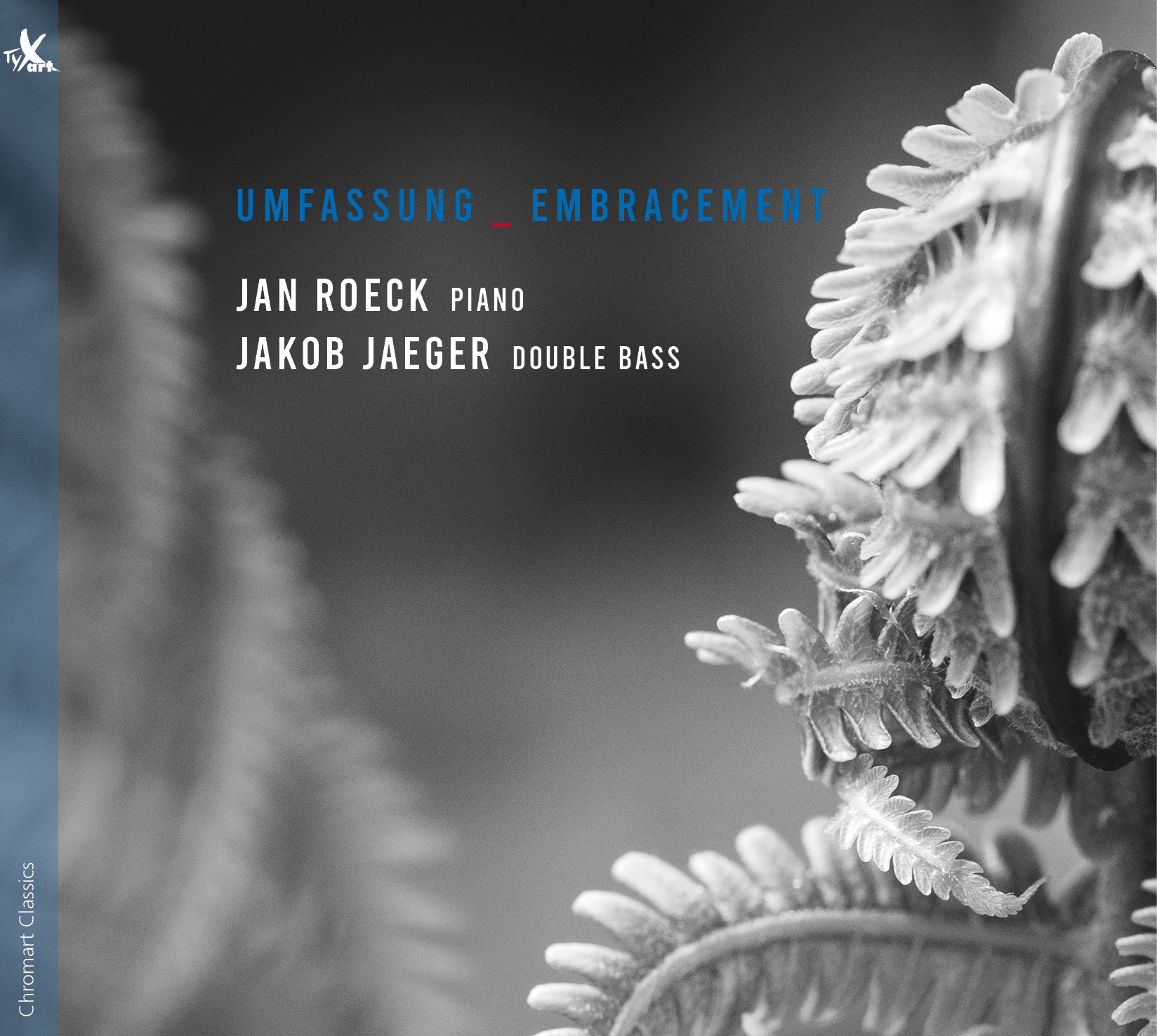 "Blue Sound"

Blue Sound. Deep focus. Embracement. This is what awaits you with this recording. Not condensed or complex harmony – the sound characterizes our recording, borne by the spirit of internalization. The silence between the notes creates a connection.
Improvisation sometimes demands too much. We, on the other hand, long for simplicity: for a sound that expresses what is essential, a sound that goes inward and slows everything down.
Thank you for listening to us.


Hailing originally from Bad Saulgau in Baden-Wurttemberg, pianist Jan Roeck currently resides in Munich. He was music director and répétiteur at the Badisches Staatstheater Karlsruhe as well as at the Altes Schauspielhaus and Komödie im Marquardt in Stuttgart, where he has been heard in productions that include Heesters, Edith Piaf and Meisterklasse.
A much sought-after classical and jazz accompanist, he collaborates with a wide variety of ensembles and soloists. He is a visiting lecturer of vocal coaching and improvisation with Musica Viva and gives numerous master classes in Germany and abroad.
With the singer and actress Asita Djavadi, he has composed several children's musicals such as "Jule Rapunzel", "Rumpelstiltskin's Luck", and "Little Red Riding Hood's Wolf". Additional highlights have been the dramatic stagings of "Piaf – the Search for Love" and "Piaf meets Brel", both of which have met with much success in performances throughout Germany, including an appearance at the Berlin Philharmonie.
For over ten years Jan Roeck has been the regular accompanist of Annette Postel. Together with the Munich Philharmonic String Quartet they celebrated the premiere in the spring of 2012 of the musical performance piece "Champus Violett". In 2017 Jan Roeck and Asita Djavadi released a new CD entitled "Fragile – the Best of Everything".
With his sister Jeanette Roeck Jan Roeck recorded an album of children's songs (CD No. TXA18109) – an exciting encounter between classical singing and jazz piano that will bring pleasure to both children and parents who might still be young at heart.

Jakob Jaeger came into contact with music at an early age. He started taking trombone lessons when he was 7 years old. Later other instruments were added with the piano, electric bass and double bass.
For several years he sang in the "Stuttgarter Hymnuschor" and in the "Windsbacher Knabenchor". At the age of 8 he could be heard in his first school big band, at 11 he played with the big band of the Pestalozzi-Gymnasium in the Unterfahrt jazz club Munich.
In 2017, at the age of 15, he won the 1st Federal Prize at "Jugend musiziert" on the trombone and the Federal Prize at "Jugend jazzt" 2017 on the double bass. He has been playing in the Bavarian Youth Jazz Orchestra since 2017 and studied double bass as a young student with Henning Sieverts and electric bass with Patrick Scales at the Munich University of Music and Theater.
In 2019 Jakob Jäger won another federal award at "Jugend jazzt" with his trio "Trialog" and began studying jazz double bass at the University of Music and Performing Arts Munich.
Free audio samples of this new CD album!
INTERNATIONAL REVIEWS AND PRESS COMMENTARIES (EXCERPTS)
Klassik Heute - Review
»[...] Jan Roeck makes his instrument sing wonderfully sensitive. Jakob Jaeger's bass is in no way inferior to that and it offers unshakable sonic backbone down to the deepest cellar. The sound quality that the label TYXart realizes here can once again be regarded as exemplary. [...]«
Artistic Quality: 9/10, Sound Quality: 9/10, Overall Impression: 9/10
klassik-heute.de, Germany/international (July 03, 2022)
Music Voice Italy - Review
»[...] Jakob Jäger and Jan Röck really know how to do it, in the sense that their ability to ferry easily from one genre to another is really remarkable. [...] the property of being able to immerse oneself in the expressive fabric of the various pieces, starting with those of Bach and Pärt, rendered with a transparency, a depth, a purity of timbre that I rarely heard. [...] f you are an audiophile and have a Hi-End listening system at your disposal, this recording from a technical point of view is so good that you can use it to set it up. [...]«
Giudizio artistico: 4/5, Giudizio tecnico: 4,5/5
musicvoice.it, Italy/international (July 31, 2022)
Nomination for the annual awards of 2022 --- »Preis der deutschen Schallplattenkritik« / The »German Record Critics' Award«
The German Record Critics' Award presents the longlist incl. the nomination »Umfassung_Embracement« – Röck, Jäger (TYXart) for the annual awards of 2022.
PdSK, Deutschland/international (05.09.2022)
CD Programme / Tracklist:
Umfassung _ Embracement

01 'Round Midnight - Thelonious Monk (1917–1982)
02 You don't know what Love is - Gene De Paul (1919–1988)
03 The Saga of Harrison Crabfeathers - Steve Kuhn (* 1938)
04 Recorda Me - Joe Henderson (1937–2001)
05 Somewhere over the Rainbow - Harold Arlen (1905–1986)
06 When I fall in Love - Victor Young (1899–1956)
07 Clair de lune - Claude Debussy (1862–1918)
08 Kantate "Gottes Zeit ist die allerbeste Zeit" BWV 106: 1. Sonatina (Actus tragicus) - Johann Sebastian Bach (1685–1750)
09 You are the Sunshine of My Life - Stevie Wonder (* 1950)
10 Smile - Charly Chaplin (1889–1977)
11 What a Diff'rence a Day made - María Grever (1885–1951)
12 Caravan - Juan Tizol (1900–1984) and Duke Ellington (1899–1974)
13 The Nearness of You - Hoagy Carmichael (1899–1981)
14 Summertime - George Gershwin (1898–1937)
15 Ich und Du - Jan Röck (* 1976)
16 Spiegel im Spiegel - Arvo Pärt (* 1935)
CD Album: First release!

24 Bit / 96 kHz Audiophile Recording | HD Mastering for CD
Keywords: Embracement Jan Roeck Piano Jakob Jaeger Double Bass Jazz Blue Sound LC28001
» Detailed CD booklet includes further info (bios, photos, etc.)
» Total playing time: 80min 29sec | Digipack | Booklet-Text: DE, EN
» Format: 1 Audio-CD | Series "Chromart Classics" | RD: ~07/2022
» Order No.: TXA21156 | GTIN (EAN): 4250702801566 | © 2022
» CD available commercially or directly via TYXart