Kateryna Kasper, Soprano
Dmitry Ablogin, Fortepiano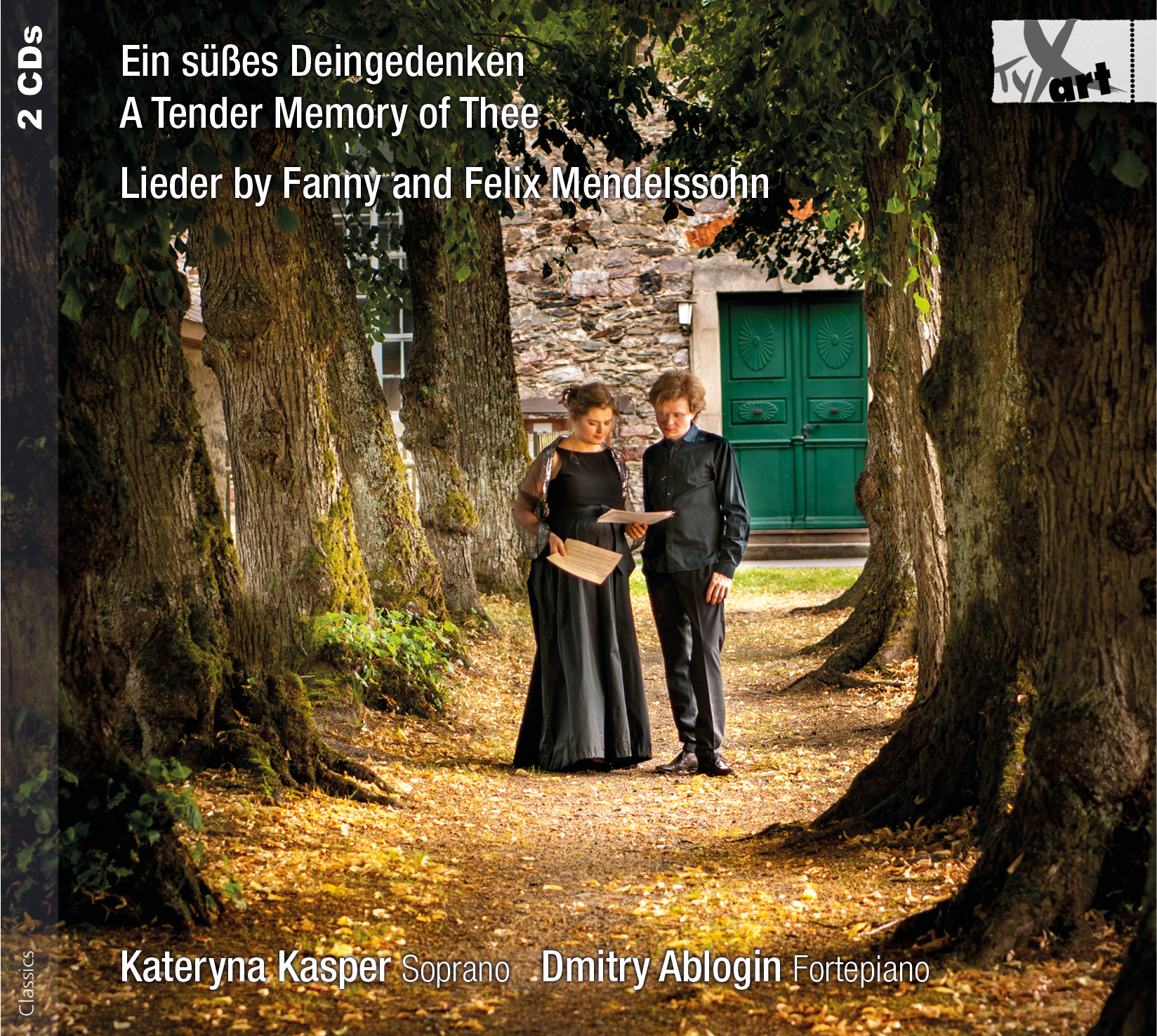 A Tender Memory of Thee
Lieder by Fanny and Felix Mendelssohn [incl. World Premiere Recordings]

Are the songs on this new double CD album musical letters between the brilliant composer siblings Fanny and Felix Mendelssohn? Through their joint musical education, the children of a pianist and a respected Jewish banker were musically soul mates; Music was her soul language. Later they exchanged their compositions in many entertaining and poetic letters. The three years older sister was the closest advisor of the "child prodigy" Felix throughout her life. According to those who knew her, she was equal to him as a pianist and composer.

But while Felix made an international career, his sister, who according to Goethe was "equally gifted", performed almost exclusively in the semi-public of her well-known "Sonntagsmusiken" in his parents' palace in Berlin. At the same time, she regulated practical and social affairs for Felix and for her husband, the court painter Wilhelm Hensel, and raised her son. Her many compositions – mainly songs and smaller chamber music works (the genre "Songs without Words" goes back to her) – were only heard by a close circle of friends and family; or they ended up completely unheard "in the drawer": Felix wanted to protect his sister from social hostility in the tradition of his father and was clearly against the publication of her works. The lack of perception caused Fanny problems throughout her life and also led to tensions with her brother again and again. At the age of 40, she finally decided, encouraged by her husband and friends, to publish. A short time later, she died of a stroke. Her brother, who was deeply affected by the sudden death of his beloved sister, composed only a few songs and followed her half a year later.

Their music held the siblings together like an invisible band throughout their lives. The "Duo Kasper Ablogin" also feels connected to the siblings through the music and understands these CDs as a "remembrance of you".

Some songs are preceded by an improvised prelude, as was customary until the early 20th century. These were created spontaneously during the recordings and some were kept to create the atmosphere of a live concert.

Kateryna Kasper (Soprano) and Dmitry Ablogin (Fortepiano) interpret these wonderful songs partly in first recordings – absolutely worth listening to!

[ Further english info text about works, composers & artists: see booklet inside ]
Free Audio Samples of this 2-CD-album!
Double CD Programme / Tracklists:

CD 1

"Gib mir ein Zeichen!" – "Give me a sign!"
Felix Mendelssohn Bartholdy (1809–1847)
Auf Flügeln des Gesanges Op. 34 Nr. 2
Die Liebende schreibt Op. posth. 86 Nr. 3
Fanny Hensel (1805–1847)
Vorwurf Op. posth. 10 Nr. 2
Achmed an Irza / Im Garten *
Felix Mendelssohn Bartholdy
Venetianisches Gondellied Op. 57 Nr. 5
Fanny Hensel
Die furchtsame Träne *
Felix Mendelssohn Bartholdy
Suleika Op. 34 Nr. 4
Fanny Hensel
Harfners Lied

"Zum Scherzen alles ist gestellt" – "Everything is jovial
Felix Mendelssohn Bartholdy
Frühlingslied Op. 47 Nr. 3
Fanny Hensel
Wenn ich mir in stiller Seele
Felix Mendelssohn Bartholdy
Blumenstrauß Op. 47 Nr. 5 02
Fanny Hensel
Die Mainacht Op. posth. 9 Nr. 6
Felix Mendelssohn Bartholdy
Andres Maienlied (Hexenlied) Op. 8 Nr. 8

"Dort und nirgend mehr" – "Nowhere else but there"
Fanny Hensel
Traum
Nach Süden Op. 10, Nr. 1
Sehnsucht ("Ich weiß ein Tal") *
Ach, die Augen sind es wieder
Anklänge I – Vöglein in den sonn'gen Tagen
Anklänge II – Ach! wie ist es doch gekommen
Anklänge III – Könnt ich zu den Wäldern flüchten

CD 2

"Dämmrung senkte sich von oben" – "Twilight descended from above"
Felix Mendelssohn Bartholdy
Des Mädchens Klage WoO 23
Fanny Hensel
Wo kommst du her? *
Dämmrung senkte sich von oben
Geräusch (Titel im Erstdruck: Sehnsucht)
Nacht *
Nachtwanderer Op. 7 Nr. 1
Im Herbst
Über allen Gipfeln ist Ruh

"Schwanenlied" – "Swansong"
Fanny Hensel
Bergeslust Op. 10 Nr. 5
Schwanenlied Op. 1 Nr. 1
Felix Mendelssohn Bartholdy
Altdeutsches Frühlingslied Op. 86 Nr. 6 02
Schilflied Op. posth. 71 Nr. 4
Nachtlied Op. 71 Nr. 6

* First recording
2 Audio-CDs, Digipack 8-sided, incl. Booklet (28 p.)
» Detailed CD booklet includes further info (bios, photos, etc.)
» Total playing time: 88min 54sec | Booklet Text: DE, EN, FR, JP
» Format: 2 Audio-CDs | Series "Classics" | Release int'l: ~06/2022
» Order No.: TXA19127 | GTIN (EAN): 4250702801276 | ISRC
» 2CD available commercially or directly via TYXart
Further information:
www.katerynakasper.de
Further CDs with Kateryna Kasper:
"Ah! If I but Knew the Way Back ..."