Duo Burkhard Maiss, Violin | Viola & Ji-Yeoun You, Piano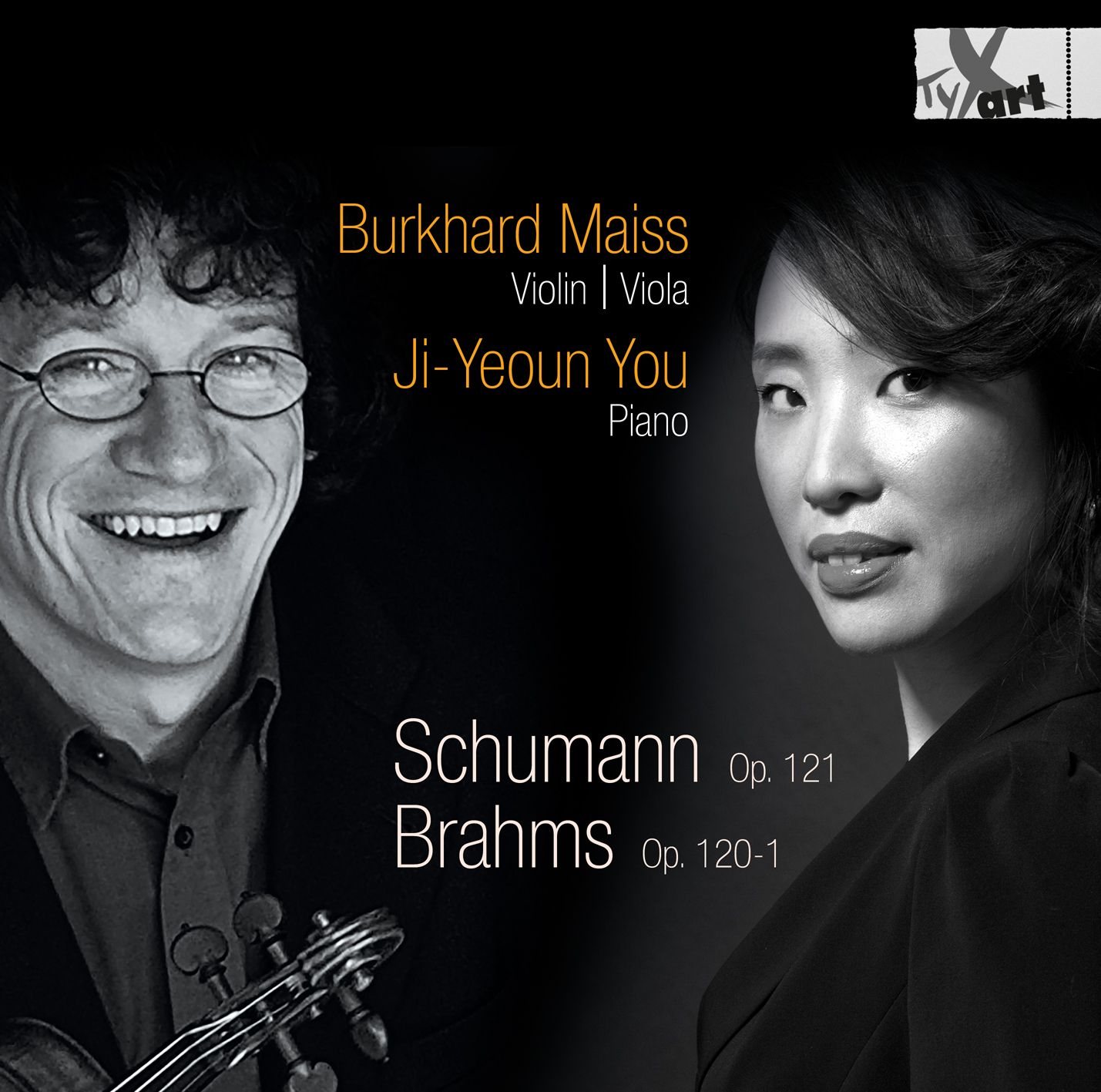 "Why don't you do something for violin and piano?"

Though many years may separate the two duo sonatas of Schumann and Brahms, they can still be seen as an intimate exchange between the two composers – about virtuosity and the dialogue between two equal partners, about progress and tradition, youth and old age. Both works were written in the composers' final creative years, which were curtailed by fatal illness. Still, there is room for doubt whether Schumann's syphilis and Brahms's (presumptive) pancreatic cancer did actually influence the style and outlook of the music, as has often been suggested in the past. The ways their lives, personalities, and artistic surroundings developed were too different to warrant a comparison between their "late periods." What united them was friendship and admiration, felt above all by the younger Brahms out of a sense of lifelong indebtedness toward his mentor Schumann, who died young.
[Extract of the CD Booklet, Text by Michael Struck-Schloen]


The Duo MAISS YOU was founded by Burkhard Maiss and Ji-Yeoun You. The duo formation is dedicated to the music for violin and piano and – to the same degree – to the sister genre for viola and piano. In order to explore exciting combinations of compositions even within a single program, the duo utilizes both the violin and the viola in their concerts – a practice only rarely present in nowaday's concert life.

Burkhard Maiss is founding member of the Jacques Thibaud Trio and has traveled the world giving concerts for more than twenty-five years. He has performed in the most prestigious concert series around the world, receiving tremendous acclaim from the critics and the audience. The New York Times wrote that "Burkhard Maiss's violin sound is rich and warm, like full-bodied red wine". He appeared in hundreds of venues, including London´s Wigmore Hall, New York´s Lincoln Center, Washington DC´s National Gallery, Stanford University, Seoul University, Berlin Philharmonie and many more. He recorded frequently with radio stations like WNYC, Voice of America, WQED, NPR Performance Today, St. Paul Sunday, Radio Bremen, RBB/SFB, and NDR.

Ji-Yeoun You was born in South Korea. At the age of five, she started playing the piano, and five years later, she had her debut with Mozart's "coronation" concerto. While being a student at the renowned Yewon Arts School in Seoul, she won all important national youth contests such as Chosun, Ewha, Hankook and Samic. In 1995, she continued her musical education in Berlin, where she studied with Laszlo Simon at the Berlin University of the Arts and, after switching to the Hochschule für Musik Hanns Eisler, with Klaus Bässler and Georg Sava. She received further musical impulses by Daniel Barenboim, Dietrich Fischer-Dieskau, Klaus Hellwig, Hans Leygraf, Menahem Pressler, Wolfram Rieger and Elisso Wirssaladze. During her studies, she received a scholarship for Young Artists from the Robert Schumann Haus, Zwickau, and a scholarship for the promotion of young artists from the senate of Berlin. In 2005, she finished her studies by passing the concert exam with distinction.
Free Audio Samples of this CD album!
REVIEWS & INTERNATIONAL PRESS COMMENTARIES
Radio Presentation of the new CD, Audio Examples and Recommendation!
--- Podcast available ---
Radio 100,7, Luxembourg/international (Radio Broadcast, Sept 25, 2018)
Klassik Heute Recommendation!
»Artistic Quality / Sound / General Impression: Highest "10/10" rating!«
klassik-heute.com, Germany/international (Oct 16, 2018)
Crescendo Magazine » Nouveautés » CD Tip!
»[...] Un CD plein de charme, donc, à écouter sans modération !«
CRESCENDO-magazine.be, Belgium/international (11/2018)
CD-Besprechung und Tipp!
Opus Klassiek, The Netherlands/international (online 12/2018)
Album Review and Tip!
Classical Music Sentinel - recommendations of the best in classical music recordings, Canada/international (11/2018)
La maturità cameristica di Schumann e Brahms » CD Tip!
musicvoice.it, Italy/international (11/2018)
CD Review and Tip
pizzicato.lu, BeNeLux/international (11/2018)
CD Review "The New Listener"
the-new-listener.de, Germany/international (February 02, 2019)
CD Review!
Portal musicalifeiten.nl, The Netherlands/international (online September 2018)
CD Programme (Tracklist):
Robert Schumann (1810–1856)
Sonate Nr. 2 d-Moll op. 121 für Violine und Klavier /
Sonata No. 2 in D minor, Op. 121 for Violin and Piano
Ziemlich langsam – Lebhaft 10:41
Sehr lebhaft 04:23
Leise, einfach 05:43
Bewegt 06:42

Johannes Brahms (1833–1897)
Sonate f-Moll op. 120 Nr. 1 für Viola und Klavier /
Sonata in F minor, Op. 120 No. 1 for Viola and Piano
Allegro appassionato 08:36
Andante un poco Adagio 05:46
Allegretto grazioso 03:52
Vivace 05:32


Tags Keywords: Duo Maiss You Schumann Brahms
CD TYXart LC28001 4250702801108 TXA18110
» Detailed CD booklet includes further info (bios, photos, etc.)
» Total playing time: 51min 26sec | Booklet Text: DE, EN, FR, JP
» Format: 1 Audio-CD | "Classics" | Release int'l from 10/2018
» Order No.: TXA18110 | GTIN (EAN): 4250702801108 | (p)+(c)2018
» CD available commercially or directly via TYXart
Another CD by Duo MAISS YOU (Album Vol. 2)
"Bartók - Leistner-Mayer - Janáček"
Further info about the Artists:
Burkhard Maiß, Violin | Viola
Ji-Yeoun You, Piano