Reiner Ginzel, cello -
Annette Weisbrod, piano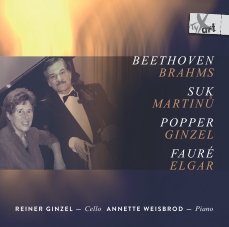 Works for Cello and Piano

This CD – excellent interpreted by Cellist Reiner Ginzel and Pianist Annette Weisbrod – brings together eight composers with very diverse works. Only upon closer examination do we perceive the connections between pairs of works on the recording, though each time of a different kind. We thus have the Beethoven/Brahms duo – the model and emulator, both firmly rooted in the German musical tradition; Suk/Martinu – the teacher and pupil, each also influenced by Eastern European folk music; Fauré/Elgar – two representatives of late Romantic tone painting in Western Europe; and finally, Popper/Ginzel – two cellist-composers who know and take delight in every subtlety of their instrument!

Reiner Ginzel studied with the eminent teacher Prof. Karl Grosch, a student of the legendary cellist Julius Klengel. He perfected his abilities taking part in various master courses e.g. with Natalja Schachovskaya, who was Mstislav Rostropovitch's assistant.
After several years as solo cellist in the most renowned German orchestras, he was called to the University of Music and Theatre in Munich as professor. He is also a member of the German String Trio with which he has produced more than 30 CDs. Ginzel also worked with the world famous composers Krzysztof Penderecki, Hans Werner Henze and Pierre Boulez and with singers such as Dietrich Fischer-Dieskau and Peter Schreier.
Apart from his work as juror at competitions e.g. the ARD Competition Munich, he works together with the Peters Edition (Frankfurt/Leipzig) and Henle Edition (Munich), preparing composition appearances by Bach, Haydn, Beethoven, Schubert, Schumann and Dvorak up to Debussy and Reger.
His journeys have taken him round the world, and his radio and television appearances document his musical versatility.

Annette Weisbrod, Swiss pianist brought up in England, is at present one of the most eminent musicians in Switzerland. Concerts as soloist, chamber musician and accompanist have taken her all over the world, from Europe to America, from Chile to China, and she has done several world tours, Radio broadcasts and over 4 dozen records and CDs testify to her range and versatility.
Her teachers were Adrian Aeschbacher, Walter Frey, Paul Baumgartner, Klaus Linder and Geza Anda. She was a teacher of a professional piano class at the Conservatory of Berne, where she prepared students for their diplomas.
Among other things she is a particular champion of Swiss contemporary composers. With the Munich Philharmonic she gave the first performance of Armin Schibler´s Piano Concerto Op. 71, she has made records of Peter Mieg´s Second Piano Concerto with the Basle Orchestra, and propagated the chamber music of Robert Blum in concert and in a series af broadcasts.
Free Audio Samples ... of this CD album!
CD Review & Tip:
»[...] A marvellous recording!«
Opus Klassiek, The Netherlands / BeNeLux (online 06/2017)
Magazine "das Orchester": CD Review & Recommendation!
dasOrchester.de, Germany / int'l (01/2018)
CD Review & Recommendation:
MusicWeb INTERNATIONAL, Great Britain / UK (online 01/2018)
CD programme (Tracklist):
David Popper (1843 – 1913)
01 Ungarische Rhapsodie op. 68 (7:43)

Josef Suk (1874 – 1935)
02 Ballade op. 3, Nr. 1 (5:45)
03 Serenade op. 3, Nr. 2 (4:36)

Bohuslav Martinu (1890 – 1959)
04 Variationen über ein slowakisches Thema (1959) (9:23)

Gabriel Fauré (1845 – 1924)
05 Sicilienne op. 78 (3:28)
06 Papillon op. 77 (3:10)

Edward Elgar (1857 – 1934)
07 Salut d'amour op. 12 (2:39)

Reiner Ginzel (*1952)
08 Die Libelle (3:14)

Ludwig v. Beethoven (1770 – 1827)
09 7 Variationen über ein Thema von W. A. Mozart "Bei Männern, welche Liebe fühlen" WoO 46 (9:17)

Johannes Bahms (1833 – 1897)
Sonate e-Moll op. 38
10 1. Allegro non troppo (13:58)
11 2. Allegretto quasi Menuetto (5:36)
12 3. Allegro (7:17)


Tags Ginzel Weisbrod cello piano CD TYXart LC28001 ISRC 4250702800880 TXA17088
» Detailed CD booklet includes further info (bios, photos, etc.)
» Total playing time: 76min 05sec | Booklet Text: DE, EN, FR
» Format: 1 Audio-CD | "Classics" | Release int'l from 07/2017
» Order No.: TXA17088 | GTIN (EAN): 4250702800880 | (p)+(c)2017
» CD available commercially or directly via TYXart