Anne Riegler, piano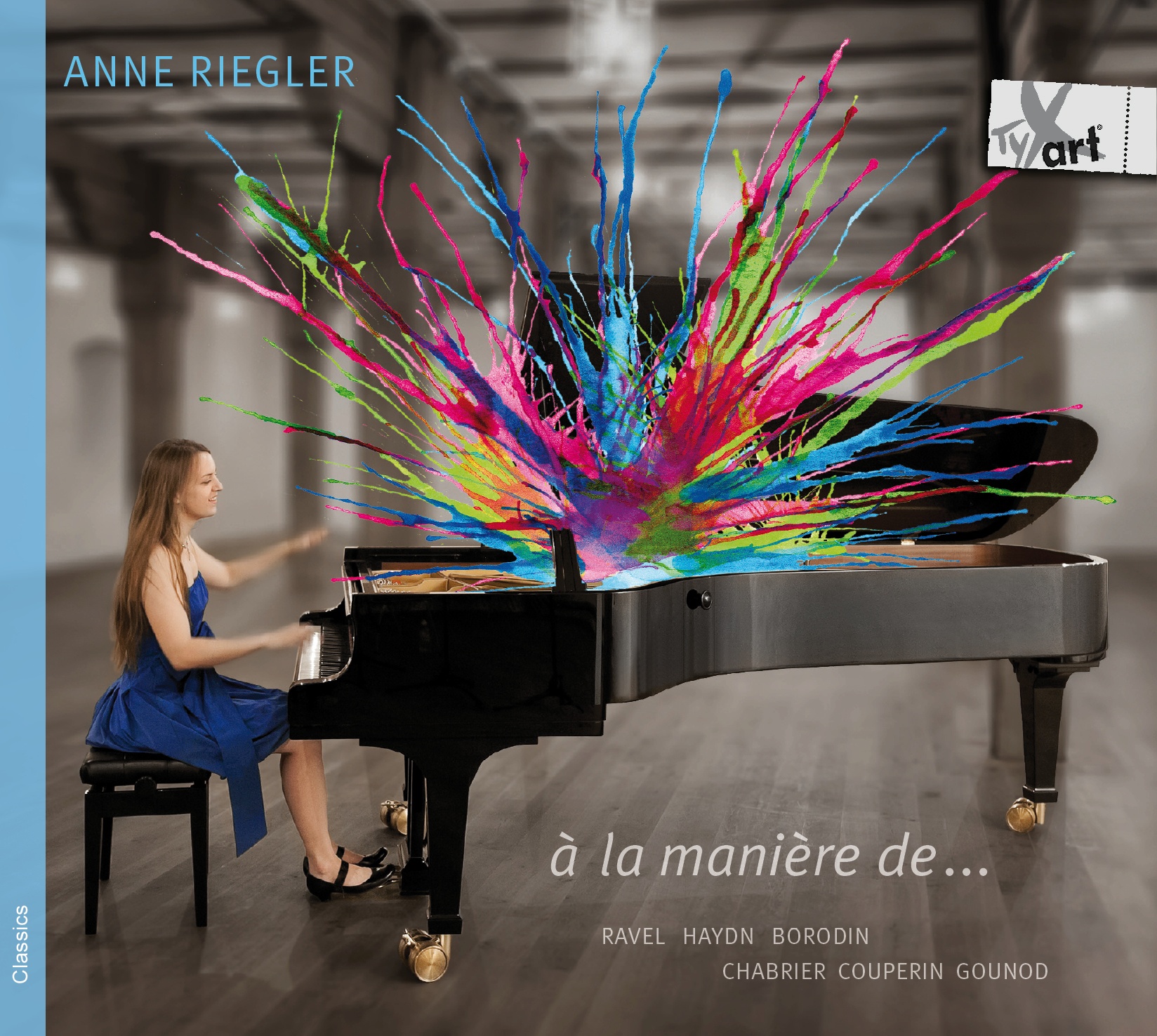 What do an Opera Aria by Gounod and a short Serenade by Borodin have in common? They both served as models for two short piano pieces by Maurice Ravel: Portraits of other composers. Anne Riegler offers in her debut CD a perspective on Ravel's music that is unique in its approach. All piano works in which Ravel names and refers to other composers are paired with original compositions of those portrayed composers, resulting in an exceptional journey through all periods of music history from Couperin to Ravel.

The colors on the booklet? An opera aria within piano music? Ravel counting the alphabet on the piano keys? Answers to these questions and other interesting background information about the program One hundred years ago, in 1917, Maurice Ravel completed his work on a suite for piano in the baroque style: Le tombeau de Couperin. This composition stayed with me for the past ten years since I first heard it when I was a teenager. My fascination for the music of Ravel and this cycle in particular can hardly be summarized in a few sentences. Especially the Toccata captivated me with its pulsating, seething energy, gorgeous melodies, colorful harmonies and the exciting increase of tension until the grand ending. During practice, I once thought: If some people knew what kind of ecstasy Ravel's Toccata can cause, they would not take drugs, but piano lessons.

Anne Riegler is a young pianist who grew up in two little towns in Germany as a daughter of church music directors. Since she was young, she has been fascinated by other countries and attended high school in France for several months as a teenager. Her education in music led her from the university of music in Würzburg, Bavaria (Silke-Thora Matthies) to the conservatory in Saint Petersburg in Russia (Nina Seregina) and finally to New York City (Jerome Rose) where she earned Master's Degree at the Mannes School in 2017.
Diving into cultures that are so diversified and speaking different languages had a great impact on her development as a person and on her musical expression. She finds it most valuable to experience music's universal language as well as different approaches of thinking and making music in foreign countries.
Free Audio Samples ... of this CD album!
Radio "mdr KULTUR" - Recommendation!
mdr KULTUR, Germany (March 20, 2017)
Portal "klassik.com" - CD Review!
»An absolutely recommendable debut!«
Repertoire: 5 Stars ✩✩✩✩✩ = of paramount importance!
klassik.com, Germany, Thomas Gehrig, (online, June 01, 2017)
CD Review & Tip!
quadrevisie.nl, The Netherlands / BeNeLux (online 06/2017)
»Interpretation: 5/6 Points ✩✩✩✩✩, Repertoire: 6/6 Points ✩✩✩✩✩✩ = Highscore!«
Magazine Piano NEWS, Germany, Isabel Fedrizzi (Edition Sept.-Oct. 2017)
CD programme / Tracklist:

01-03 Joseph Haydn (1732 – 1809)
Sonata in D Hob. XVI, 24

04 Maurice Ravel (1875 – 1937)
Menuet sur le nom d'Haydn

05 Emmanuel Chabrier (1841 – 1894)
Idylle from "Pièces Pittoresques"

06 Charles Gounod (1818 – 1893)
Faites-lui mes aveux from Opera "Faust" *

07 Maurice Ravel
À la manière de... Chabrier

08 Alexander Borodin (1833 – 1887) Scherzo
09 Serenade from "Petite Suite"

10 Maurice Ravel À la manière de... Borodine

11 François Couperin (1668 – 1733) Tic-Toc-Choc

12-17 Maurice Ravel Le tombeau de Couperin

Anne Riegler, piano
Julia Sauer, soprano * (Track 06)
» Detailed CD booklet includes further info (bios, photos, etc.)
» Total playing time: 59min 40sec | Booklet Text: DE, EN, FR, JP
» Format: 1 Audio-CD | Series "Classics" | Release int'l: ~04/2017
» Order No.: TXA17087 | GTIN (EAN): 4250702800873
» CD available commercially or directly via TYXart
Further information:
www.anneriegler.com