Lorelei Dowling, Bassoon - Elena Kats-Chernin, Piano -
Klangforum Wien - Johannes Kalitzke, Conductor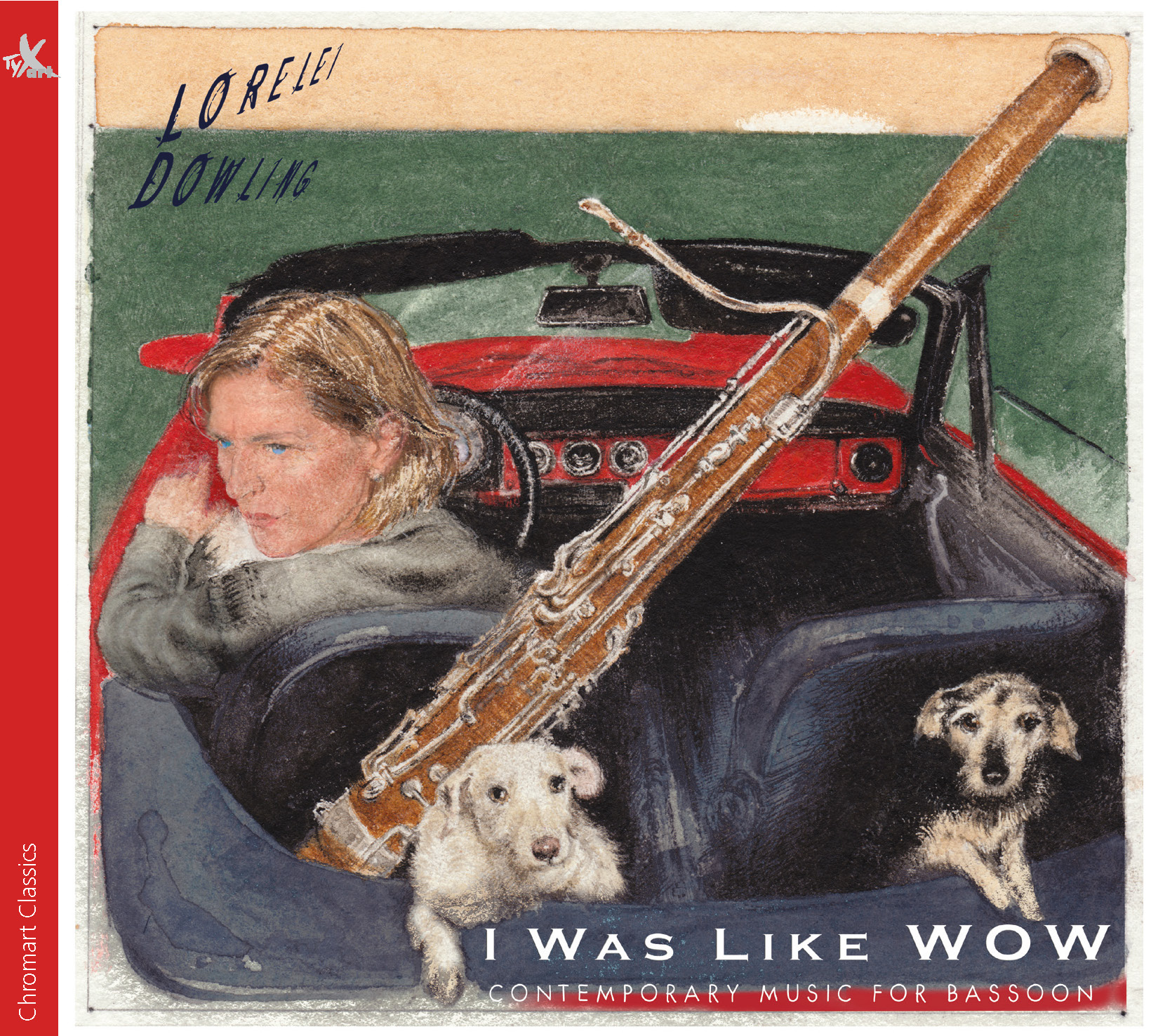 "This CD 'I was like WOW' came about because I wanted to showcase my life in music through a palette of bassoon colours. The pieces reflect where I have come from, and where I am now. I want to take the listener on a voyage, from lyrical to challenging music. Enjoy the journey!" Lorelei Dowling

Feeling it was time to introduce the world to a cross section of contemporary bassoon works, her CD, 'I was like WOW' has been compiled from studio and live recordings.
Starting with five pieces from her great friend, composer and pianist, Elena Kats-Chernin, the work represents the natural surroundings and light heartedness from Lorelei's place of birth, Australia.
'Celluloid' for solo bassoon, a highly virtuosic work, composed by Johannes Marie Staud, incorporates the gamut of contemporary techniques with melodic ideas. Extremely wild with a juxtaposing and mesmerizing multiphonic section, this solo piece is like bassoon on steroids.
Another great friend, composer, Pierluigi Billone, has dedicated many pieces to Lorelei. 'Blaues Fragment' is a wonderful example of his atmospheric and ethereal style.
As a contemporary artist, Dowling felt she must make a political statement. Jacob TV's 'I was like WOW', is a piece she arranged for bassoon from the original trombone part. The CD accompaniment is based on interviews with two US soldiers who returned severely wounded from the Iraq war in 2003. The piece is a powerful, emotional statement for both listener and performer.
The monumental work by a composer greatly admired by Lorelei, Sofia Gubaidulina, finalises the spectrum. Recorded in concert by the Austrian National Radio (ORF) to a full house in the Mozart Saal, Konzerthaus Wien, 'Concerto for Bassoon and Low Strings', performed with Dowling's colleagues from Klangforum Wien was a highlight of the soloist's career.

Lorelei Dowling, bassoonist and contrabassoonist, is a world-renowned contemporary specialist. Since winning a position in the Sydney Symphony Orchestra aged 24, she has appeared with many esteemed ensembles including: Orchestre de la Suisse Romande, Mozarteum Orchestra, Orchester-RSO Wien, Australian Opera and Ballet Orchestra, Ensemble Modern, Esbjerg Ensemble, Musikfabrik, Lausanne and Munich Chamber Orchestras. Since 1994 she has been the solo bassoonist in Klangforum Wien, Austria.
Since September 2009 she has been lecturer of bassoon/contrabassoon in the postgraduate course for Contemporary Studies at the University of Music and Dramatic Arts Graz/Austria and, from 2013, for the Masters in Composition at Katarina Gurska Centre for Music, Madrid/Spain.
Lorelei has given lecture-recitals all over the world, most notably at the Manhattan School of Music; Moscow Conservatorium; Singapore University; Venice Conservatoire; Porto School of Music, Portugal; Paris Conservatoire; 10 year celebration for The Bassoonion, Hong Kong; Royal Northern College of Music and for the International Double Reed Society in Ithaca, Wisconsin and Birmingham. In 2010 she was the international guest bassoonist at the British Double Reed Society convention.
Free Audio Samples ... of this CD album!
KULTURPORT.de CD TIP!
KULTURPORT.de, Germany, Hans-Juergen Fink (online March 20, 2017)
CD Review & Recommendation!
OpusKlassiek, The Netherlands / BeNeLux, Aart van der Wal (online 02/2017)
klassik-heute.com - Artistic Quality: Highscore 10/10!
klassik-heute.de, Germany, Stefan Pieper (online 10 April 2017)
CD Review & Recommendation!
ADRS - Australasian Double Reed Society, Magazine/Portal "Reeding Matter", Australia (Volume 20, Issue No.1, March 2017)
Magazine 'Neue Zeitschrift für Musik' - CD Review and Tip
»[...] A brilliant performance of the Soloist Lorelei Dowling and of the Klangforum Wien & Johannes Kalitzke. [...]«
Music: 5/5 Points!
Neue Zeitschrift für Musik - NZfM, Germany, Lutz Lesle (03/2017)
Magazine 'das Orchester": Review / Recommendation
dasOrchester.de, Germany/int'l (07-08/2017)
CD Review & Recommendation!
MusicWeb INTERNATIONAL (online 10/2017)
CD programme (Tracklist):

ELENA KATS-CHERNIN (b.1957)
SLICKED BACK TANGO 01:34
FADED CURTAINS 03:02
NONCHALANCE 06:04
AFTERWARDS 04:12
PEGGY'S MINUTE RAG 01:00
LORELEI DOWLING, Bassoon
ELENA KATS-CHERNIN, Piano

JOHANNES MARIA STAUD (b.1974)
CELLULOID - FOR SOLO BASSOON 11:26

PIERLUIGI BILLONE (b.1960)
BLAUES FRAGMENT - FOR SOLO BASSOON 10:18

JACOB TV (b.1951)
I WAS LIKE WOW - FOR BASSOON AND CD 10:37

SOFIA GUBAIDULINA (b.1931)
CONCERTO FOR BASSOON AND LOW STRINGS
MOVEMENT I 09:24
MOVEMENT II 03:26
MOVEMENT III 05:30
MOVEMENT IV 03:34
MOVEMENT V 03:27
LORELEI DOWLING, Bassoon
KLANGFORUM WIEN - JOHANNES KALITZKE, Conductor

Tracks 01-08:
Studio Recording, Studio 227, ABC, Sydney/Australia
Tracks 09-13:
Live Recording, Mozartsaal Konzerthaus, ORF, Vienna/Austria
1 CD, Digipak 6-sided, incl. Booklet full color multilingual (24 pages).
Keywords: Tags Dowling Bassoon I was like Wow Kats-Chernin Klangforum Wien Kalitzke TXA16081 4250702800811 TYXart LC28001
» Detailed CD booklet includes further info (bios, photos, etc.)
» Total playing time: 75min 00sec | Booklet Text: DE, EN, FR, JP
» Format: 1 Audio-CD | " Chromart Classics" | RD: int'l ~04/2017
» Order No.: TXA16081 | GTIN (EAN): 4250702800811 | (p)+(c)2017
» CD available commercially or directly via TYXart