Ensemble del Arte (Chamber Orchestra) -
Irakli Tsadaia, Violin - Olivia Friemel, Piano - Fuad Ibrahimov, Conductor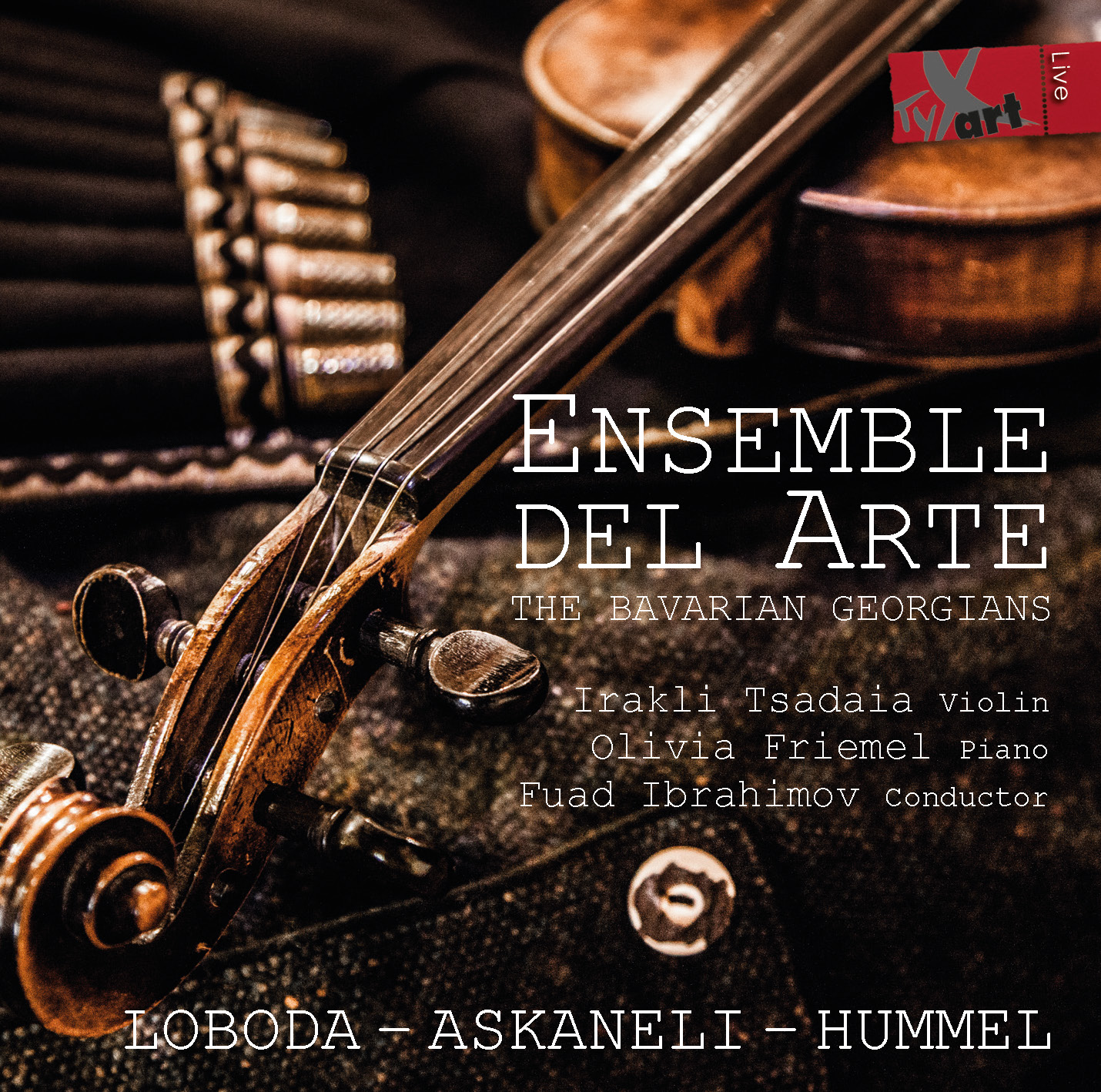 TYXart CD Series "Modern Classics":
Premiere recordings of contemporary works for chamber orchestra

ENSEMBLE DEL ARTE was founded in 1994 in Neuburg on the Danube (Germany) - by soloists of the Georgian Chamber Orchestra, which took up residence in Ingolstadt in 1990 - and has since become well-known as a first-class chamber orchestra. Internationally renowned soloists and conductors gladly accept invitations to perform regularly with DEL ARTE.
Members of the orchestra began to give musical and instrumental lessons to children and youngsters and have thus created a large pool of talented "Bavarian Georgians" from which the "Georgian Bavarians" as well as orchestras throughout Germany profit. This special support for the musicians of the future has become very popular with concert audiences.

On this album, the ENSEMBLE presents premiere recordings of contemporary works by the Georgian composers Igor Loboda and Jimsher Askaneli and the Bavarian composer Franz Hummel, with the Azerbaijani conductor Fuad Ibrahimov and the soloists Irakli Tsadaia (Solo Violin) and Olivia Friemel (Piano).
The ensemble has an extensive repertoire, ranging from baroque to contemporary music. Numerous composers entrust new works to the orchestra, as they know that these will be premiered not only with exactitude but also with dedication, inspiration and temperament.

Fuad Ibrahimov (Conductor) has played the viola as a soloist in numerous chamber ensembles and orchestras since his childhood. Later he studied conducting in Michael Luig's class at the Music Conservatoire in Cologne and completed the course with top marks. The list of his appearances with famous orchestras is long and includes the Royal Philharmonic Orchestra and the Guerzenich Orchestra in Cologne. The Youth Philharmonic Azerbaijan was founded on his initiative. He is the Artistic Director of this orchestra, which he conducted for the first time in 2008 at the Young Euro Classic Festival. Since 2010, Ibrahimov has been "Conductor in Residence" at the Berliner Camerata.
Free Audio Samples ... of this CD album!
'Klassik Heute' Recommendation!
»Maximum Score: Artistic Quality, Sound Quality and General Impression.«
klassik-heute.de (online 15 July 2016)
Magazine 'das Orchester': Review and Recommendation
dasOrchester.de (12/2016)
pizzicato: CD Review & Tip!
»The Bavarian Georgians of Ensemble del Arte and their soloists present a mix of Georgian and Bavarian music in well-made performances. Their exuberant joy of music-making is contagious.«
pizzicato.lu, Luxembourg (online 14 Nov 2016)
»CD Tip!
[...] shaped by profound emotion and passion!«
Newspaper Augsburger Allgemeine, Johannes Seifert
»CD Recommendation - Culture - Spectrum
[...] Bavarian Georgians? Bavaria is a country of boundless possibilities.«
Newspaper Nürnberger Nachrichten (21 June 2016)
»CD Presentation and Recommendation!«
Newspaper Neuburger Rundschau
CD Review & Recommendation
Musicweb International, Classical Reviews UK, Jonathan Woolf (12/2016)
CD programme / Tracklist:

Igor Loboda (*1956)
Konzert für Violine und Kammerorchester op. 126 /
Concerto for Violin and Chamber Orchestra Op. 126
In modo di recitativo - Largo ma non troppo - Rondo
Irakli Tsadaia, Solo Violin

Jimsher Askaneli (*1975)
Erinnerung / Memories
Sentiments (arr. Eduard Israelov)
Concertino for Piano and Chamber Orchestra
Mkhedruli (arr. Eduard Israelov)
Irakli Tsadaia, Solo Violin / Olivia Friemel, Piano

Franz Hummel (*1939)
24 Tanzetüden über einem Stolperbass /
24 Dance Études on a Stumbling Bass
dem Georgischen Kammerorchester gewidmet /
dedicated to the Georgian Chamber Orchestra

ENSEMBLE DEL ARTE (Neuburg/Danube, Germany)
Soloists of the Georgian Chamber Orchestra
Fuad Ibrahimov, Conductor
World Premiere Recordings / Live recorded in Concert
1 CD, Digipak 6-sided, incl. Booklet full color multilingual.
Tags: Keywords Ensemble del Arte Soloists Georgian Chamber Orchestra Loboda Askaneli Hummel TXA16080 TYXart LC28001
» Detailed CD booklet includes further info (bio, works, photos, etc.)
» Total playing time: 55min 25sec | Booklet Text: DE, EN, FR, JP
» Format: 1 Audio-CD | Series "Modern Classics" | RD int'l 06/2016
» Order No.: TXA16080 | GTIN (EAN): 4250702800804
» CD available commercially or directly via TYXart
Further information & concert dates: Ensemble del Arte
Further information Fuad Ibrahimov, Conductor
Photography: Maria Siebenhaar Photography