Susanne Bernhard, Soprano & Harald Feller, Organ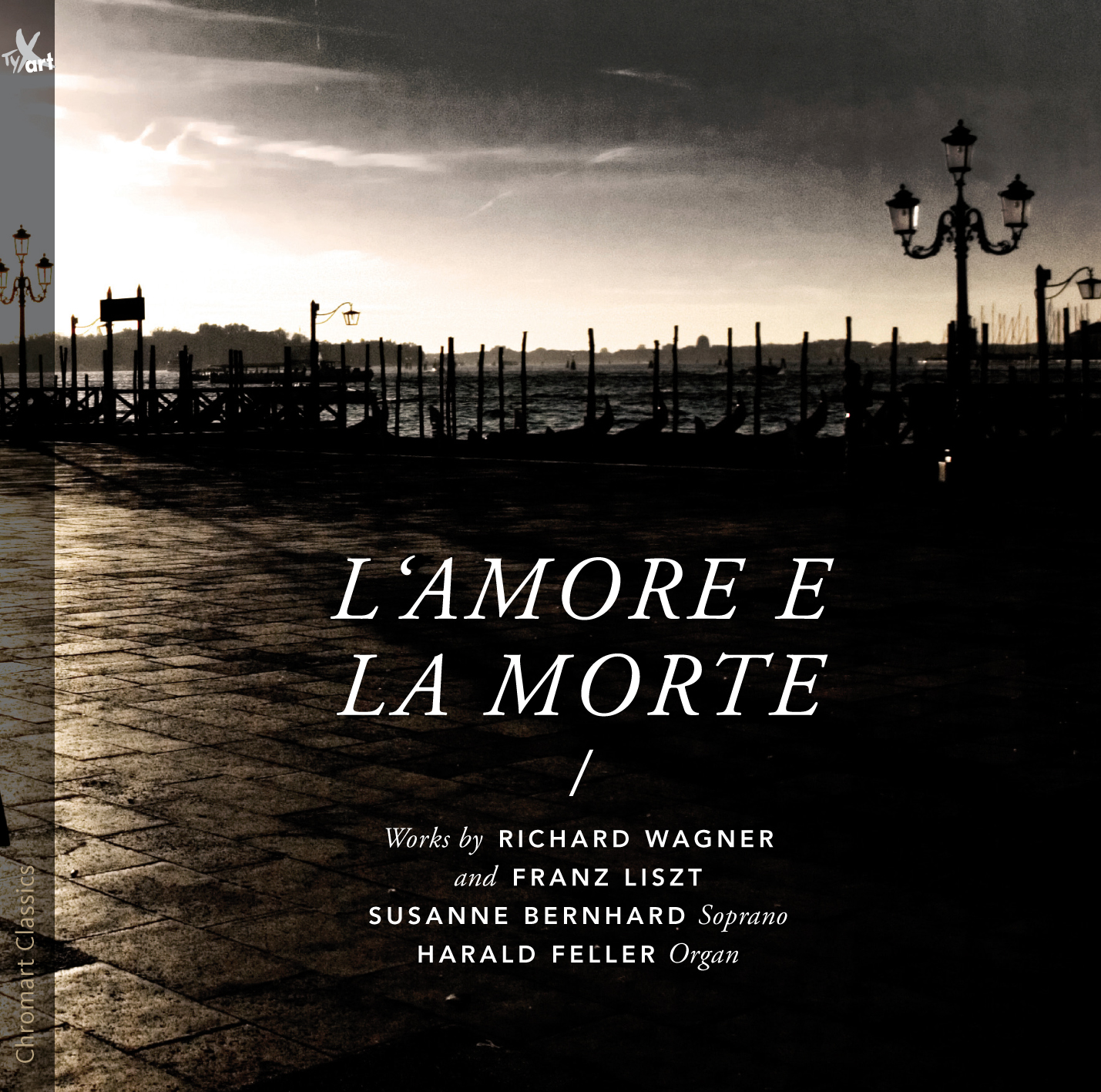 Works by Richard Wagner and Franz Liszt (arr. for Soprano and Organ)

The two great topics of humanity, love and death, are closely related to each other in a mysterious way. Many important artists have dealt with them in their works. With his opera "Tristan and Isolde" and the closely related "Wesendonck Lieder", Wagner created a particularly impressive example of this. Liszt, who had a very close relationship with Wagner and also inspired him artistically, gave this topic his own moving expression in the two symphonic poems "Orpheus" and "Von der Wiege bis zum Grabe" ("From the cradle to the grave") as well as in the lieder "Ich möchte hingehn" ("I would like to pass on"), filled with the longing for death, and "O lieb" ("O love").

The two composers of the works recorded here, Franz Liszt and Richard Wagner, are closely connected both in terms of music history and personally.

The unusual instrumentation of soprano & organ by the great artists Susanne Bernhard and Harald Feller makes this music shine in a different and fascinating new light.

A Co-Production with BR KLASSIK Bavarian Broadcast Corp., Munich.
Free Audio Samples ... of this CD album!
»Radio hr2 kultur CD Tip!«
hr2 kultur Broadcasting Corp. (11 Sept 2016)
Presentation of the new CD Album: Richard Wagner: From "Wesendonck-Lieder"; Franz Liszt: "Orpheus"
BR-KLASSIK Broadcasting Corp. (Radio Broadcast 30 Sept 2016)
Review and CD Tipp!
Newspaper 'Recklinghäuser Zeitung', Germany (23 Dec 2016)
»The recording is great!«
The Organ Club, UK (17 Jan 2017)
CD-Programme / Tracklist:

Richard Wagner (1813 - 1883)
01-02 Vorspiel und Liebestod aus "Tristan und Isolde"
(arr.: H. Feller) [17:38]

Franz Liszt (1811 - 1886)
03 "Orpheus" - Symphonische Dichtung No. 4
(arr.: H. Feller) [10:04]

Richard Wagner
Wesendonck Lieder (arr.: H. Feller)
04 1. Der Engel [03:12]
05 2. Stehe still [03:29]
06 3. Im Treibhaus (Studie zu Tristan und Isolde) [06:00]
07 4. Schmerzen [02:11]
08 5. Träume (Studie zu Tristan und Isolde) [04:22]

Franz Liszt
"Von der Wiege bis zum Grabe" (arr.: H. Feller)
09 1. Die Wiege [05:33]
10 2. Der Kampf ums Dasein [03:42]
11 3. Zum Grabe: Die Wiege des zukünftigen Lebens [08:04]

Zwei Lieder (arr.: H. Feller)
12 1. "Ich möchte hingehn" [08:53]
13 2. "O lieb solang du lieben kannst" [05:37]


CD Album: incl. Booklet 24 pages, multi-lingual
Tags Keywords: l'amore e la morte Susanne Bernhard Harald Feller Max Reger Organ TXA15055 Wagner Liszt GTIN EAN 4250702800552 TYXart Chromart Classics LC28001