vox animata Chamber Choir - Robert Göstl, Direction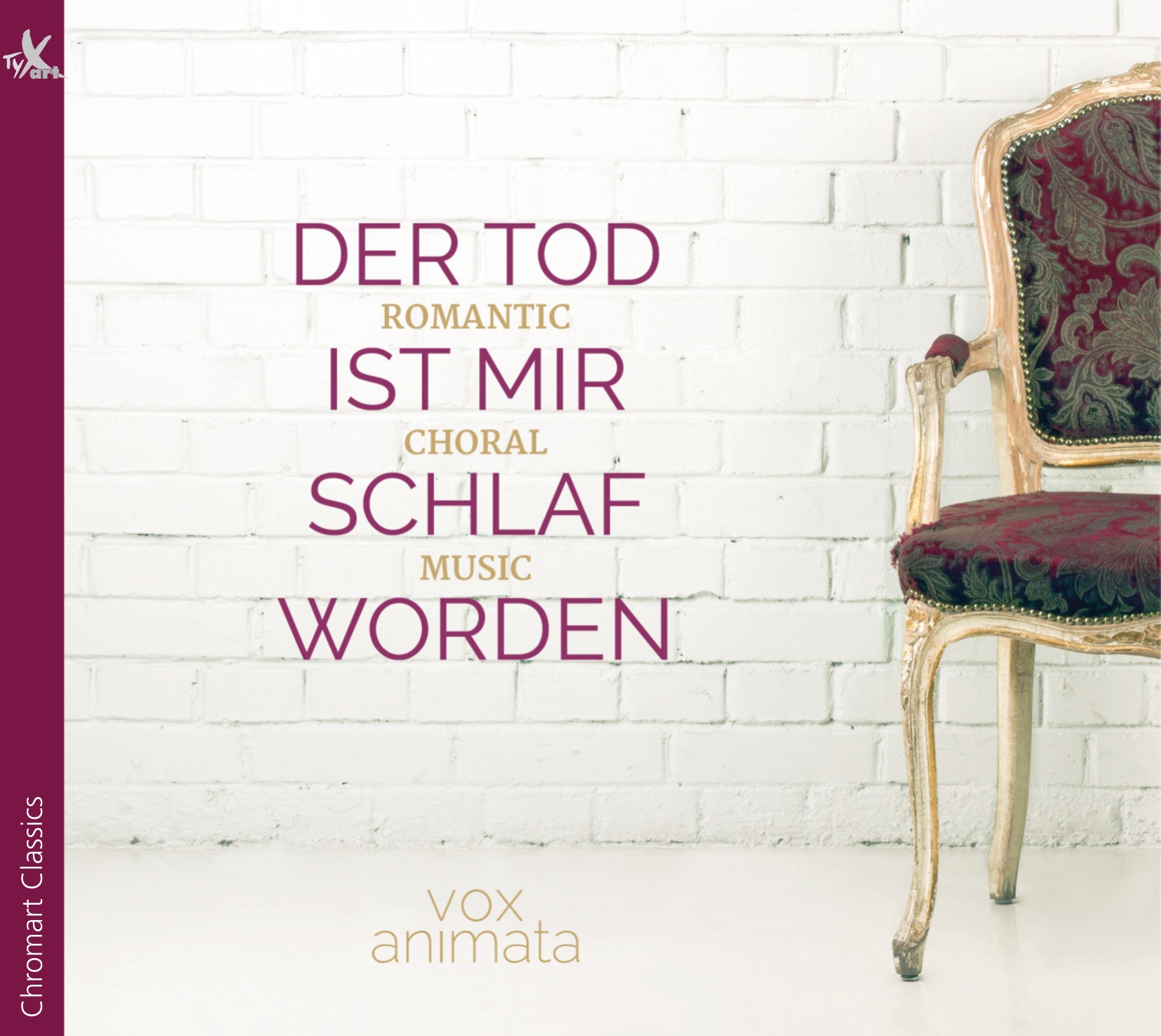 Romantic Choral Music by Brahms, Reger and Schumann
Romantic longing: Tranquility – Parting – Death

Romantic works for choir are playing a secondary role, unlike romantic symphonic compositions, music for piano, and the Lied. Nevertheless, the spectrum of romantic a cappella compositions is vast and grows in popularity, especially over the past years. This CD gives an insight of highly contrasting a cappella works in a multitude of different but typical forms. Whilst Johannes Brahms is applying old techniques and formal constructions, even adding a final chorus in his great motet "Wherefore is light given to him that is in misery", he also masters simple choir songs. He actually felt highly recognized and flattered when his newly created melodies were understood as "folk songs". Max Reger, on the other hand, uses an actual folk song, then varies it inimitably, and narrates the story of the Two Kings' Children in a very moving way.
This technique is closely related to the Ballads and Romances by Robert Schumann, textually referring to a long lost mythical past. He mastered the choir as an instrument, especially in the colourfully sung direct speech and dialogues. Longing for quiet, departing of the beloved, and a romanticized conception of death throughout the lyrics characterize both the sacred and the secular choir works on this CD.

vox animata as a young chamber choir founded by former members of the Deutscher Jugendkammerchor (German Chamber Youth Choir) together with Rober Göstel in 2014. The singers are of German nationality or the neighboring foreign countries, always in different lineups, and feature programs highlighting Johann Sebastian Bach, Romantic works, and contemporary music. A first carte de visite to the ensemble, this CD displays above all its core idea of soulful singing. It is not designed to impress but rather to move and touch, to inspire the listener. This is the main reason why vox animata especially addresses young people. Having set the goal to create educational programs for schools, children's choirs, and youth choirs, vox animata cares to promote and to ensure high quality singing among the following generations of listeners and singers – in Germany as well as on foreign tours (China 2015, South America 2016).

Robert Göstel cares to overcome the supposed gap between highbrow concert programs and educational project conception. A professor for Singing with children at the Conservatory in Cologne and a Council member of the European network for professional choirs TENSO, he is professionally closing this gap, also when it comes to his publications and his work as a choir director and advisor. His main concern is the energy generated by singing in a group, which individually enhances personal growth, and unfolds as a social link between people and nations.
»CD recommendation!«
MZ newspaper, Dr. Gerhard Dietel (online, 02 June 2015)
Album Presentation and Tip!
Newspaper Frankenpost (19 August 2015)
CD Review: rbb kulturradio Broadcasting Corp., Astrid Belschner (online, 23 June 2015)
CD programme (Tracklist):

Johannes Brahms (1833 - 1897)
In stiller Nacht
Warum ist das Licht gegeben dem Mühseligen | op. 74, 1

Max Reger (1873 - 1916)
Nachtlied | op. 138, 3
Es waren zwei Königskinder

Robert Schumann (1810 - 1856)
Der König von Thule | op. 67, 1
Ungewitter | op. 67, 4
Schön-Rohtraut | op 67, 2

Johannes Brahms
Da unten im Tale
Keywords: vox animata Robert Göstl Romantic Choral Music
CD Order Number TXA 15054 GTIN EAN 4250702800545 TYXart LC28001
» Detailed CD booklet includes further info (bios, photos, etc.)
» Booklet Text: DE, EN, FR | Total playing time: 33min 55sec
» Format: 1 Audio-CD, Digipak | Series "Chromart Classics"
» Order No.: TXA15054 | (p)+(c) TYXart 2015
» GTIN (EAN): 4250702800545 | | Release: int'l from 07/2015
» CD available commercially or directly via TYXart