Queens Duo:
Verena Beatrix Schulte, Flute & Hanna Rabe, Harp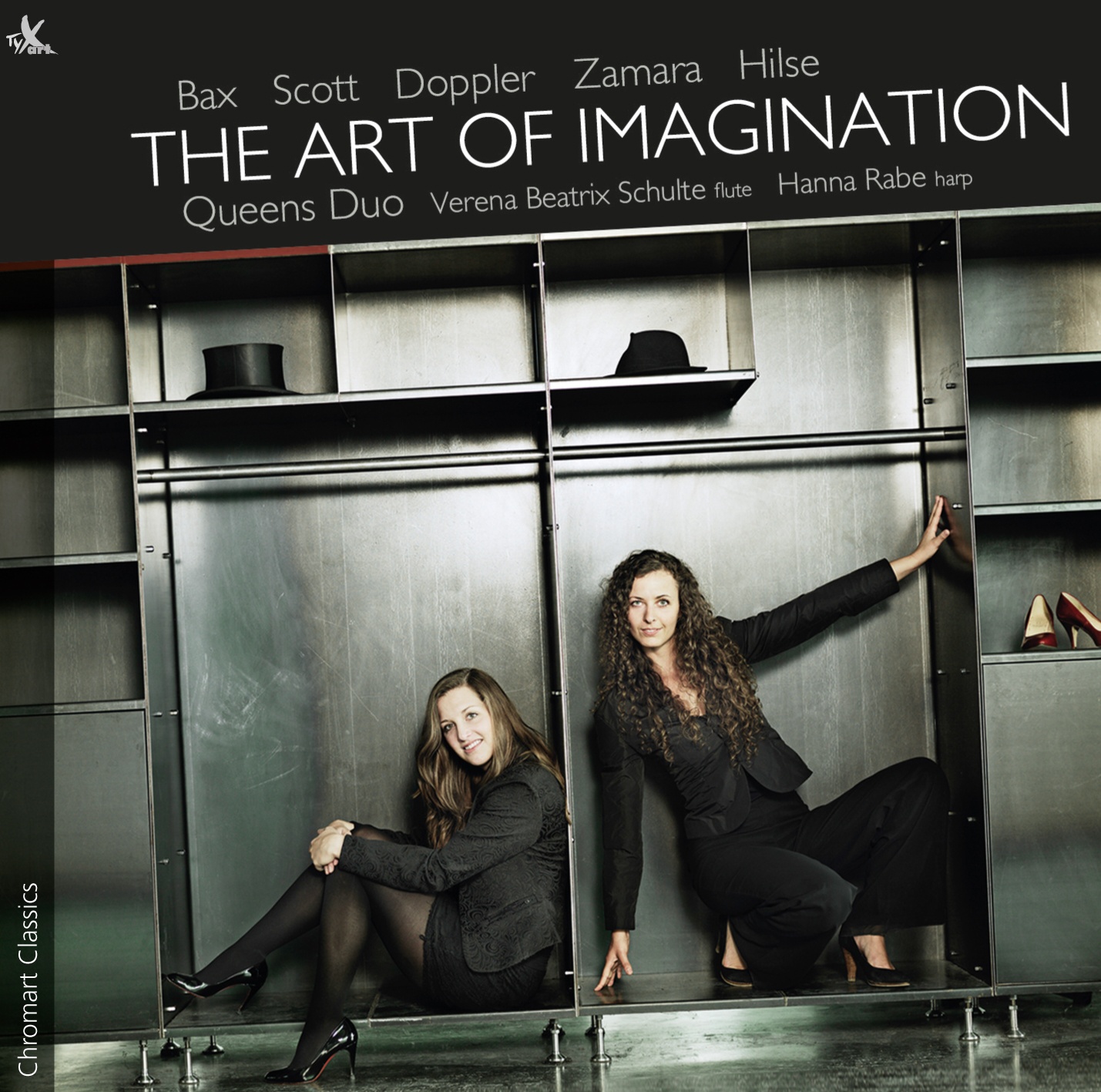 Works for Flute & Harp from Great Britain & Germany by Bax, Hilse, Doppler/Zamara, Scott

Fantasy is the creative ability of man making the creation of inner images and thus of an "inner world" possible. It is the human senses that stimulate our fantasy, and hearing is one of the first senses that develop in the womb. Hearing and listening does not only mean understanding consecutive words and their meaning, but moreover grasping the emotions of what is being said that are expressed through the articulation and the intonation.
The same thing happens when we listen to music. Since its beginnings, music has often been closely connected to dance, theater and poetry, and makes it possible to "paint" reality outside of music, i.e. nature or human emotions. The fact that these are not real pictures from the area of art, but images that originate solely in our fantasy and our subconscious even increases the stimulation of our imaginative and emoti nal lives. The reason for this is that the listener's fantasy is not bound but rather only stimulated in a certain way and is able to unfold freely.
The program of this CD is a compilation of select compositions for flute and harp from the English and German-speaking worlds, the composers of which deliberately explored the pictorial nature of music. Every single one of them has his own pictorial musical language, corresponding to his temporal context and his life's story. This CD presents a colorful bouquet of emotions with works that were consciously or unconsciously inspired by poetry, theater and the opera.
"Making of Video / Behind the scenes" - new Album "THE ART OF IMAGINATION" by Queens Duo:
TYXart Video Channel
Video B. Hilse, 1. Movement - new Album "THE ART OF IMAGINATION" by Queens Duo:
Queens Duo Video Channel
Glorious!
[...] You are free to create your own storyline, and in the capable hands of these two musicians, that should be easy work. [...]
This is overall a wonderful disc that introduces the listener to new repertoire played at a high standard.
harpcolumn.com USA, Alison Young (online 09-10/2016)
Recommendation! This CD is an absolute enjoyment!
klassik-heute.de Germany, Guido Krawinkel (online 15 Jan 2016)
CD Tip!
Newspaper 'Lippische Landeszeitung' (03 Feb 2016)
Interview online
Südwestpresse, Feuilleton "Klassisch", Dr. Burkhard Schäfer (16 Mar 2016)
In a historically and stylistically broad program, the 'Queen's Duo' convinces with stylish and inventive performances.
pizzicato - Remy Franck's Journal about Classical Music Luxembourg, Guy Engels (online 23 June 2016)
CD programme (Tracklist):

B. Hilse (1884–1964): Suite Op. 6
Andante
Bacchanale
Adagio
Scherzo

Arnold Bax (1883–1953): Sonata for flute and harp
Allegro Moderato
Cavatina Lento
Moderato Giocoso

Franz Doppler (1821–1883) / Antonio Zamara (1829–1901):
Casilda Fantaisie for flute and harp

Andy Scott (*1966): Sonata for flute and harp
"Freely, with energy"
"Rubato"
"With purpose and energy!"
Keywords: Queens Duo Schulte Rabe Flute Harp Bax Scott Hilse Doppler Zamara CD Order TXA 15051 GTIN EAN 4250702800514 TYXart Labelcode LC28001
» Detailed CD booklet includes further info (bios, photos, etc.)
» Booklet Text: DE, EN, FR | Total playing time: 64min 30sec
» Format: 1 Audio-CD, Jewelcase | Series "Chromart Classics"
» Order No.: TXA15051 | (p)+(c) TYXart 2015
» GTIN (EAN): 4250702800514 | | Release: int'l from 11/2015
» CD available commercially or directly via TYXart
Further information "Queens Duo": queensduo.de