Joachim J.K. Kunze, Trumpet and Composition
Nicolo Sokoli, Organ - Kuno Wagner, Percussion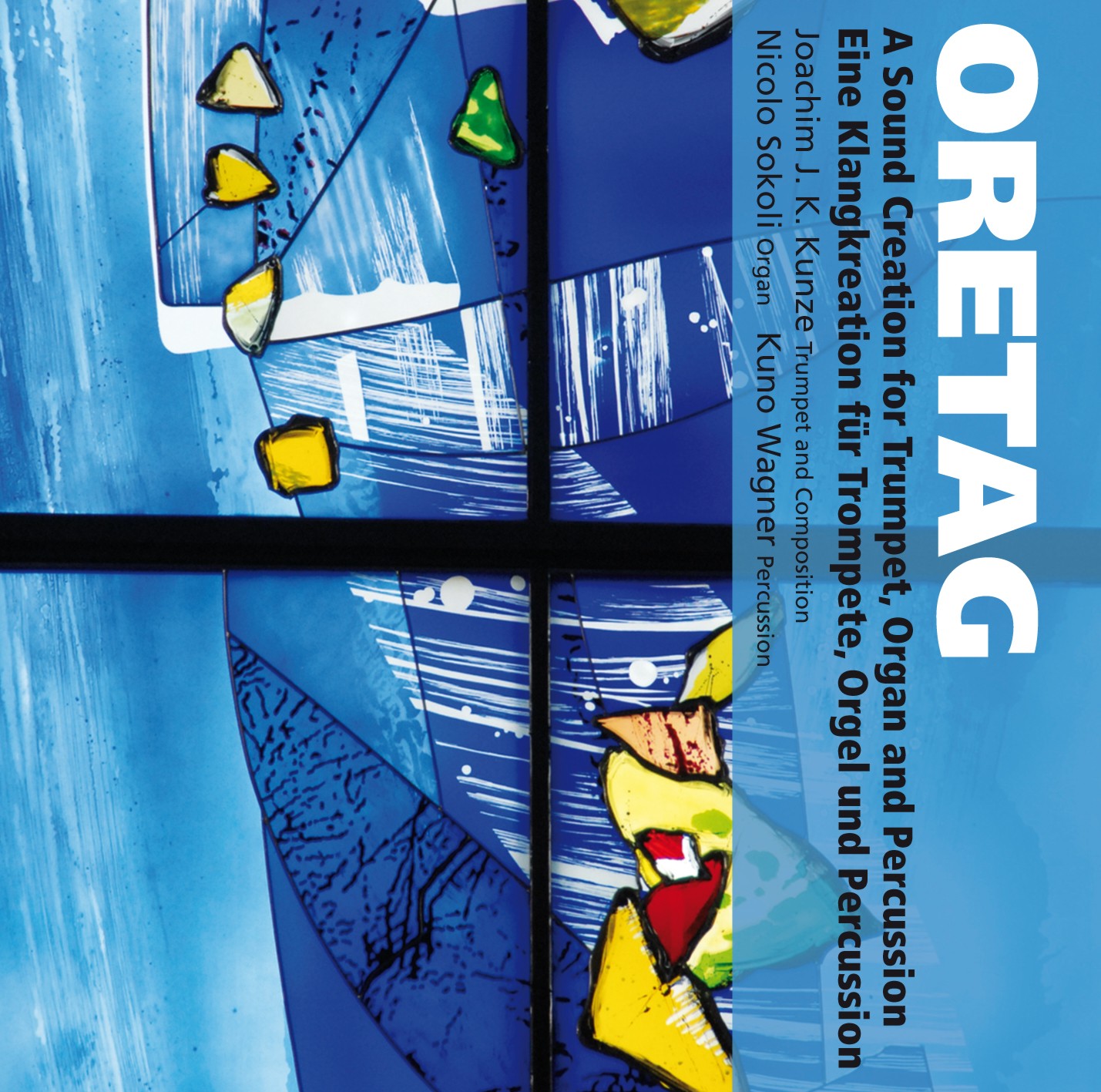 A Sound Creation in 12 Movements for Trumpet, Organ and Percussion

ORETAG is a sound reaction for three musicians. "Build yourself silver trumpets" from the Book of Moses provided the impetus for Joachim J. K. Kunze to write a composition in 12 movements — each movement interpreting a quotation from the Bible — for trumpet, organ and percussion. Nicolo Sokoli stimulated him to work with this rather unusual instrumental combination. The result is an exciting and stylistically multi-layered work in which all three instruments occupy a position of equality. Musical elements from four centuries are presented to the listener; these sometimes blend together or are juxtaposed next to each other. There is a melody that could certainly also occur in a composition of Bach, and then it oscillates the next moment through the church interior. The organ registration, sensitively undertaken by Nicolo Sokoli, obtains a new role - both in the accompaniment and also as a solo instrument and in dialogue with the others. The percussion carries the other two instruments; it is present but never obtrusive. Joachim J. K. Kunze plays the trumpet with a sound entirely his own - sometimes clearly, at other times in an almost jazzy manner, he always adapts it to the interpretations of the individual movements. The work thus has an arch of tension that extends over the course of all the movements, achieving consummation in the concluding Chorale and Fanfare. Kunze, already the recipient of numerous composition prizes, has created a completely different kind of work.
CD programme (Tracklist):

ORETAG ― A Sound Creation in 12 Movements

Bauet Euch Signaltrompeten
Die Engel singen das Lob des Herrn
Jesus in der Wüste
Ankündigung von Leiden und Auferstehung
Der Hauptmann von Kafarnaum
Jesus im Hause des Zöllners Zachaeus
Der Einzug in Jerusalem
Judas
Bevor der Hahn kräht
Ich bin bei Euch alle Tage
Turmbau zu Babel
Choral und Fanfare
CD Album: World Premiere Recording and First Release!
Keywords: Tags Oretag Sound Creation Joachim Kunze Trumpet Composition Nicolo Sokoli Organ Kuno Wagner Percussion new CD 2013 World Premiere Recording Order Number TXA 13030 TYXart Series Chromart Classics
» Detailed CD booklet includes further info (bios, photos, etc.)
» Total playing time: 42min 21sec | Booklet Text: DE, EN, FR, JP
» Format: 1 Audio-CD | "Chromart Classics" | Release: from 08/2013
» Order No.: TXA13030 | GTIN (EAN): 4250702800309 | (p)+(c)2013
» CD available commercially or directly via TYXart
Further information:
Joachim J.K. Kunze
PREVIEW
Further CDs in the Series Chromart Classis coming soon.