Deutsches Saxophon Ensemble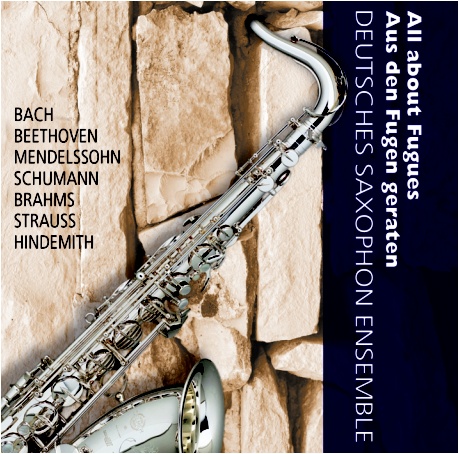 Hindemith, Bach, Mendelssohn, Schumann, Brahms, Strauss, Beethoven

Chromart Classics

The programme of this recording is the result of the extraordinary and consistently pursued quartet philosophy of the Deutsche Saxophon Ensemble.
Originating in their profound conviction that the saxophone in the formation with soprano, alto, tenor and baritone, now at the beginning of the 21st century at the latest, is the preferred choice for lending a new transparency to polyphonic structures, Nicole Schillings, Monika Leufgen, Katharina Stashik and Michael Ruf open up musical worlds previously unknown to the instrument.
Making exclusive use of their own adaptations of contrapuntal masterworks, they are, for the first time, reworking nearly the entire German musical tradition with the youngest of all musical instruments.
And that's a good thing, for the result is amazing – one wishes that this instrument had already been invented in Bach's day.
...very interesting and new sound impressions of polyphonic masterpieces!
CD programme:

PAUL HINDEMITH (1895–1963)
Suite aus Ludus tonalis für Klavier
Fuga secunda – Allegro
Fuga nona – Moderato, scherzando
Fuga quarta – Con energia
Fuga quinta – Vivace

JOHANN SEBASTIAN BACH (1685–1750)
aus: Die Kunst der Fuge BWV 1080
Contrapunctus I
Contrapunctus IV
Contrapunctus IX

FELIX MENDELSSOHN-BARTHOLDY (1809-1847)
Suite aus Sechs Präludien und Fugen op. 35
Präludium Nr. 2 D-Dur – Allegretto
Fuge Nr. 2 D-Dur – Tranquillo e sempre legato
Fuge Nr. 6 B-Dur – Allegro con brio

ROBERT SCHUMANN (1810–1856)
aus: Sechs Fugen über den Namen BACH op. 60
Fuge 5 – Lebhaft
Fuge 2 – Lebhaft

JOHANNES BRAHMS (1833–1897)
Choralvorspiel und Fuge über »O Traurigkeit, o Herzeleid«

RICHARD STRAUSS (1864–1949)
Fuge zu vier Themen für Klavier

LUDWIG VAN BEETHOVEN (1770–1827)
Große Fuge B-Dur op. 133

» Detailed CD booklet includes further info (bios, photos, etc.)
» Total playing time: 65min 07sec | Booklet Text: DE, EN, FR, JP
» Format: 1 Audio-CD | "Chromart Classics" | Release: 09/2012
» Order No.: TXA12012 | GTIN (EAN): 4250702800125
» CD available commercially or directly via TYXart
Further information & touring:
www.deutsches-saxophon-ensemble.de