Peter Schnur, Organ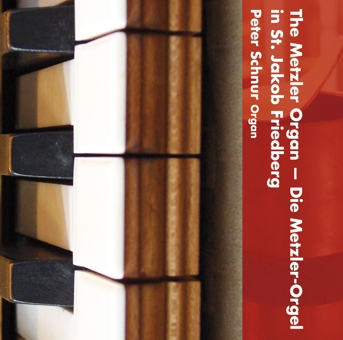 Chromart Classics

On this CD album, organist Peter Schnur presents for the first time the Metzler organ in St. Jakob in Friedberg/Bavaria in a first-class recording with outstanding interpretations of the presented works.
A fine selection of works by German, English, French and Italian composers not only demonstrates Schnur's artistic skill and sensitivity, but also presents the organ in its full range of tonal colours and performance possibilities as an instrument whose sound is well balanced and lively in every facet. With an assured sense of style, Peter Schnur brings out the vitality and diversity of this organ. In this recording, it is as if the listener were present at a live performance in the church itself, experiencing a feast of outstanding organ music.
The accompanying booklet is in four languages and presents further information about the organist, the works and the instrument itself, together with a range of photographs.
»The 2001 organ (III/39) in the Bavarian town of Friedberg sees Metzler building a genuinely eclectic instrument with swell box, enclosed chorus reeds and an undulant within an entirely mechanical concept. [...] The church's organist, Peter Schnur, a former student of Daniel Roth, presents a creative programme including a thoroughly 'pedaliter', almost expressionistic arrangement of Bach's manualiter D minor Toccata BWV 913.
Benchmark: 4 Stars ****«
INTERNATIONAL RECORD REVIEW (11-12/2012)
CD programme:

Giovanni Morandi (1777–1856):
Rondo con imitazione de' campanelli, op. 17

Georg Muffat (1653–1704):
Toccata octava aus dem "Apparatus musico-organisticus"

Louis-Claude Daquin (um 1694–1772):
Le coucou aus dem "Premier Livre de pièces de clavecin"

Charles John Stanley (1712–1786):
Voluntary, op. 7, Nr. 7

Johann Sebastian Bach (1685–1750):
Toccata in d-Moll, BWV 913

Johann Ludwig Krebs (1713–1780):
Wir glauben all an einen Gott
à 2 Claviere è Pedale, Canto fermo in Tenore
Fantasia sopra "Herr Jesus Christ dich zu uns wend'
à 2 Claviere è Pedale

César Franck (1822–1890):
Prélude, Fugue et Variation op. 18

Felix Mendelssohn-Bartholdy (1809–1847):
Sonate Nr. 4, B-Dur, op. 65, Nr. 4

CD Album: First release!
» Detailed CD booklet includes further info (bios, photos, etc.)
» Total playing time: 59min 40sec | Booklet Text: DE, EN, FR, JP
» Format: 1 Audio-CD | "Chromart Classics" | Release: 07/2012
» Order No.: TXA12008 | GTIN (EAN): 4250702800088
» CD available commercially or directly via TYXart
Further information:
www.orgelpower.de
www.metzler-orgelbau.ch
PREVIEW
Further CDs in the series Chromart Classics are coming soon.