Timothy Sharp, Baritone
Deutsches Saxophon Ensemble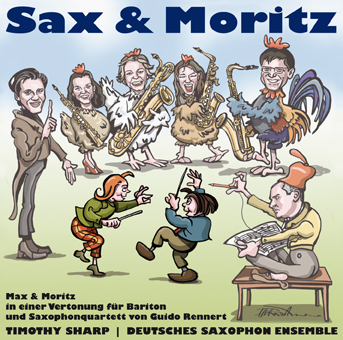 Max and Moritz: A boys' story in seven pranks by Wilhelm Busch
in a setting for baritone voice and saxophone quartet by Guido Rennert

Chromart Classics

Integrated into an Introduction, Overture and Epilogue, Guido Rennert has succeeded in creating a thoroughly gripping realisation of the seven pranks by Wilhelm Busch, allowing the well-known images to reappear anew in the mind's eye of the listener. This is an exciting, large-scale opera that thrills children and adults alike, cast in the most economical of possible performing forces - quartet and one singer - revealing true compositional mastery.
These are some of the interesting and exciting aspects -included in the booklet - that allow the adult CD-listener to re-experience anew the well-known pictures and rhymes from childhood days.
Children, unburdened by all these ideas, will also continue to enjoy the merry pranks whilst simultaneously finding access to music.
»Recommended by VdM - Verband deutscher Musikschulen« LEOPOLD 2013/2014 - Gute Musik für Kinder
CD programme:

Einleitung
Ouvertüre
Erster Streich - Witwe Bolte
Zweiter Streich - Witwe Bolte
Dritter Streich - Schneider Böck
Vierter Streich - Lehrer Lämpel
Fünfter Streich - Onkel Fritz
Sechster Streich - beim Bäcker
Siebter Streich - Bauer Mecke und Meister Müller

World premiere release, first recording!
» Detailed CD booklet includes further info (bios, photos, etc.)
» Total playing time: 38min 02sec | Booklet Text: DE, EN (24 p.)
» Format: 1 Audio-CD | "Chromart Classics" | Release: 07/2012
» Order No.: TXA12007 | GTIN (EAN): 4250702800071
» CD available commercially or directly via TYXart
Further information:
www.saxundmoritz.de
www.timothysharp.de
PREVIEW
Further CDs by Deutsches Saxophon Ensemble are coming soon.