Kayako Bruckmann, Violin - René Berman, Cello -
Michael van Krücker, Piano - Heinz Walter Florin, Piano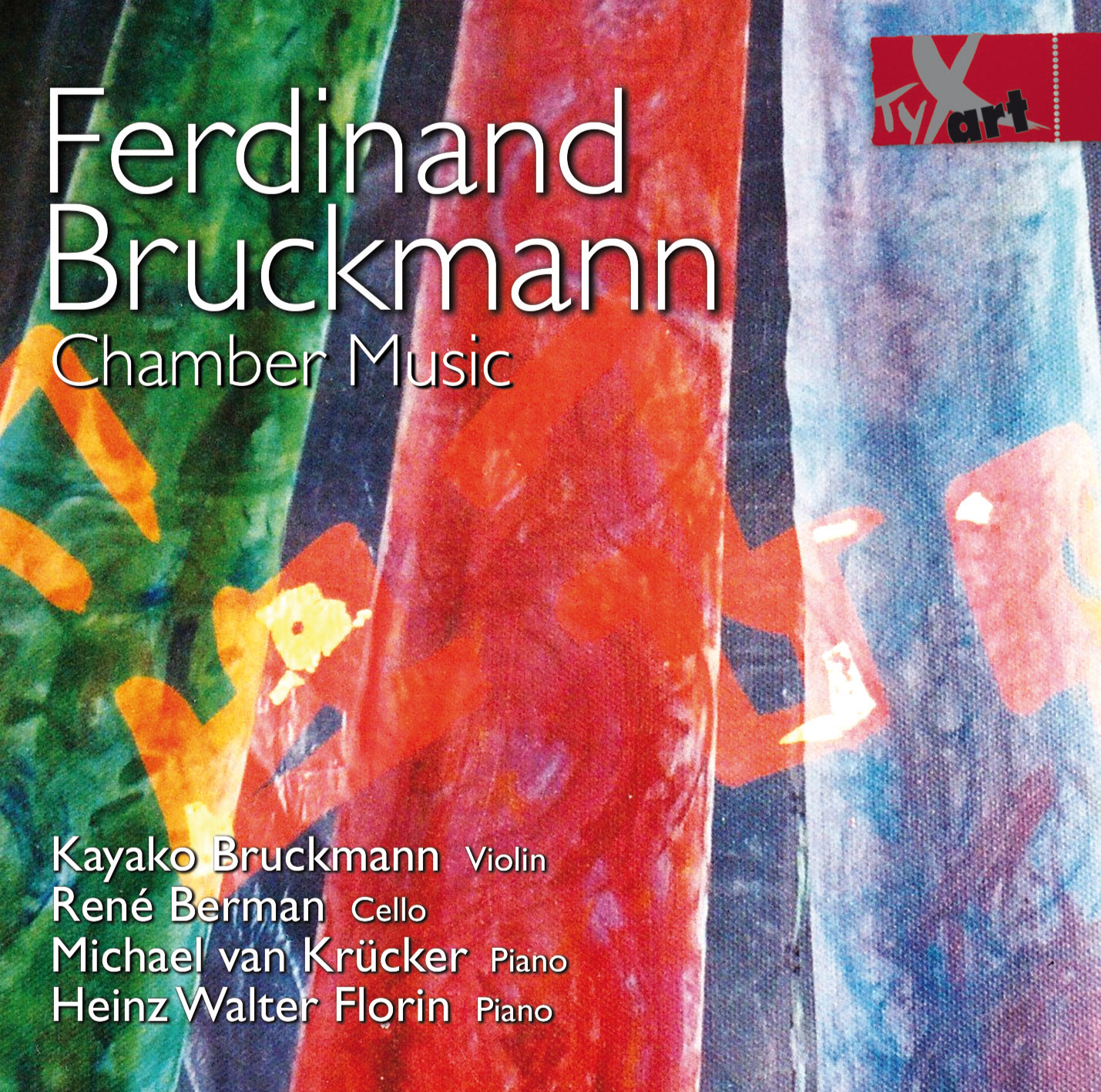 Series "Modern Classics"

This new CD (world premiere recordings) with music by composer Ferdinand Bruckmann (*1930) represents a large and exciting gamut of his output.
Bruckmann, student of Frank Martin at the Musikhochschule Köln (Cologne Music Academy, Germany), later himself professor of composition and piano in Osaka, Japan, started early in his life to write down his musical ideas on music paper and express them in compositions. His music stands out by harmonic-melodic diversity, comical notions and funny surprises. In his compositions, you may find his treatment of a Ground (variations on a so-called basso continuo and thus an early form of the Chaconne) as well as reminiscences of Tchaikovsky's Violin Concerto or of the subject of the 2nd movement of Haydn's E flat major Trumpet Concerto.
Renowned interpreters like Kayako Bruckmann (the composer's daughter, violinist in the Lübeck Philharmonic Orchestra), Rene Berman (solo cellist of the Arnhem Philharmonic Orchestra and professor at the Music Academy there), Heinz Walter Florin (pianist, composer and conductor of several well-known orchestras) and Michael van Krücker (renowned chamber musician and pianist) present with their interpretations a caracteristic and very convincing musical design!
»A very likeable production.
General Impression: Maximum Score!«
klassik-heute.com, Dr. Michael B. Weiß (online, 16 Feb 2015)
»CD Recommendation!«
Newspaper "Rheinische Post" (04 Dec 2014)
»[...] an impressive spectrum of an impressive artist!«
Newspaper "Wiener Zeitung" Austria (13 May 2015)
»CD Tip!«
Newspaper "Westdeutsche Zeitung" (24 Feb 2015)
CD-recensie & Tip!
opusklassiek.nl, Aart van der Wal (online, 03/2016)
Magazine 'das Orchester" - Review
dasOrchester.de (4/2015)
CD programme (Tracklist):
Ferdinand Bruckmann (*1930): Chamber Music

01-02 Introduktion und Rondo für Violoncello und Klavier /
Introduction and Rondo for Cello and Piano

03-08 Sechs Bagatellen für Klavier solo /
Six Bagatelles for Piano

09-13 Fünf Bagatellen für Violine und Klavier /
Five Bagatelles for Violin and Piano

14-17 Suite für Klavier vierhändig /
Suite for Piano 4 Hands

18-20 2. Sonate für Violine und Klavier /
2nd Sonata for Violin and Piano

21-23 Epilog für Violine solo /
Epilog for Violin solo

24-26 Fantasie "In memoriam" für Violine und Klavier /
Fantasy "In memoriam" for Violin and Piano

27-30 1. Sonate für Violine und Klavier /
1st Sonata for Violin and Piano

31-33 Italienische Suite für Klavier zu vier Händen /
Italian Suite for Piano 4 Hands


World Premiere Recordings



Tags: Chamber Music Bruckmann Violin Berman Cello van Krücker Florin Piano CD contemporary TYXart Labelcode LC28001 4250702800415 TXA 14041
» Detailed CD booklet includes further info (bios, photos, etc.)
» Total playing time: 67min 05sec | Booklet Text: DE, EN, FR, NL
» Format: 1 Audio-CD | "Modern Classics" | Release: from ~12/2014
» Order No.: TXA14041 | GTIN (EAN): 4250702800415 | (p)+(c)2014
» CD available commercially or directly via TYXart
Further information and concert dates:
Kayako Bruckmann
René Berman
Michael van Krücker
Heinz Walter Florin